Victoria, Seychelles, 12th March 2018 - The Seychelles joins 28 other countries in Africa that have already successfully undertaken the voluntarily Joint External Evaluation (JEE) to determine their International Health Regulations (IHR 2005) core capacities. This first-ever JEE to be conducted in the country was undertaken by a team of eight external evaluators from the World Health Organisation (WHO) who were in the country between the 5th and 9th March 2018.
Speaking at the opening of the 5 days' workshop at Savoy Resort Beau Vallon on 5th March, the acting WHO Liaison Officer Dr. Teniin Gakuruh took the opportunity to reiterate WHO's and member states' position for a more rigorous review of the IHR implementation to include an external validation on internal self-assessment conducted by countries. This statement was made in the presence of the Minister of Health, Honorable Jean-Paul Adam, Public Health Commissioner Dr Jude Gedeon, Chief Executive Officer of the HealthCare Agency Dr Danny Louange, other key health professionals, IHR Focal Points, and other stakeholders. A total of about 70 participants from various ministries, Agencies, Laboratories, Educational institutions, Media houses, Port and Airport authorities were also present.
The JEE conducted followed an internal self-assessment of IHR (2005) completed by the country's national IHR focal points in October 2017 in collaboration with key partners including relevant health professionals and WHO office. Following this self-assessment, evaluators were last week invited into the country to conduct an external review and seek proof of the reported capabilities based on a number of indicators and technical questions included in the JEE tool. Field visits to a number of facilities - Health facilities, Emergency Operation Center, Laboratories, Points of Entry and the Disease Surveillance Response Unit also took place during the week.
A preliminary analysis of the country's capabilities, identified gaps, opportunities and challenges were presented to the participants on the last day of the workshop, where the JEE team Leader Dr Anderson Latt applauded the country for its level of preparedness seen on the ground. He said that the Evaluation team noticed that the country has done a lot in terms of prevention, detection and response to public health events and that the team has now identified key recommendations on how to improve further on such achievements.
Going forward, Seychelles will now develop a National Action for health security to enable the country to strengthen even more its IHR core capacities for effective containment of public health threats.
"This joint evaluation is the basis for us to achieve the best possible outcome. We consider this as a start of further work of investing in better processes and to work towards the full implementation and domestication of the IHR. It has given us an impetus to improve our system and taking actions to put in place Standard Operating procedures and updating the regulations and the laws" concluded Minister of Health Jean Paul Adam at the closing ceremony on Friday.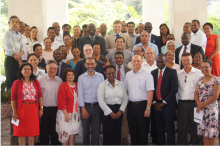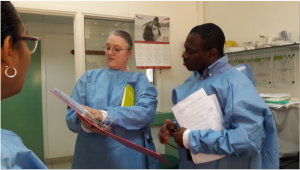 Dr Adrienne Rashford and Dr Emmanuel Agogo, two of the WHO External Evaluators takes a look at the Clinical Laboratory Standard Operating Procedures in place at the Seychelles Hospital
Click image to enlarge
For Additional Information or to Request Interviews, Please contact:
Health Promotion Officer
Tel: +248 4224795
Email: hotived [at] who.int