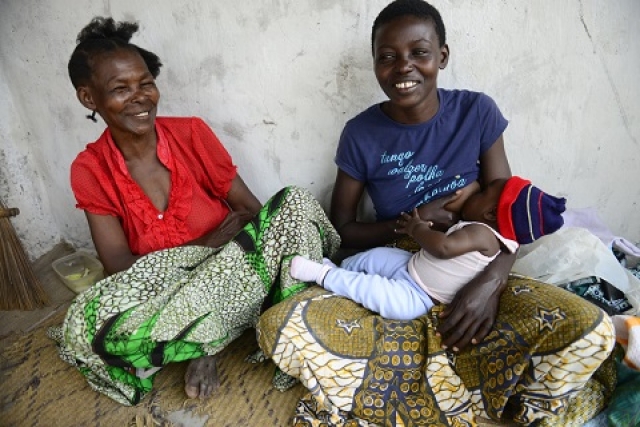 Brazzaville, 12 January 2015 – Every day an estimated 8000 children die in sub-Saharan Africa from easily preventable or treatable illnesses. Breastfeeding is one of the best ways to provide newborns, infants and young children with the nutrients that they need while protecting them against conditions such as pneumonia, diarrhoea, and measles.
The World Health Organization (WHO) recommends exclusive breastfeeding that starts within one hour after birth and lasts until a baby is six months old. Continued breastfeeding and appropriate complementary foods should be made available for up to two years of age and beyond.
In mid-2013,WHO issued new guidelines for breastfeeding and the prevention of mother-to-child transmission (PMTCT) of HIV. These recommendations were intended for use in resource-poor settings in low-and middle-income countries.
A mother can pass the HIV infection during pregnancy, delivery and through breastfeeding. In some African counties, it is estimated that 20 to 30% of pregnant women are infected with HIV and transmission rates from mother-to-child range from 25 to 40%. Antiretroviral therapy (ART) can significantly reduce the risk of transmission.
"One of the new recommendations for PMTCT is to promote the use of ART in all pregnant and breastfeeding women. These new recommendations also include providing ART - irrespective of one's CD4 count - to all children with HIV under 5 years of age, all pregnant, and all breastfeeding women with HIV," said Dr Tigest Ketsela Mengestu, Director of the Health Promotion Cluster of the World Health Organization Regional Office for Africa.
To encourage people to do this and to make testing services more widely available, WHO (HQ, Regional and country-level) have worked together with partner organizations to adapt, disseminate and implement these new guidelines in countries.
At least 90% of people living with HIV/AIDS across the African Region do not know that they are HIV positive, and HIV tests are often expensive and not always available to pregnant or breastfeeding mothers and children. More women and children are being encouraged to come forward to be tested for HIV as services become more readily available.
In sub-Saharan Africa, health systems are fragile and staffing is often grossly inadequate to meet rising health needs. Community health workers (CHWs) often play an important role in educating mothers about nutrition, breastfeeding, PMTCT of HIV, and on-going care requirements.
CHWs also save the lives of newborns through home visits during the postnatal period. This allows them to review the health of the newborn and the mother, and to connect them to appropriate health care services, wherever there is a need.
While progress has been made in promoting breastfeeding in the African Region, significant challenges remain. Africa is a vast continent containing extremes of poverty and wealth. Undernutrition is still the most important underlying factor causing high infant and child mortality in the Region.
In order to improve infant and child health and kick off the post-2015 development agenda, governments in the Region need to expand the use of safe breastfeeding. In 2012, the World Health Assembly, the decision-making body of WHO set the target of increasing the percentage of exclusive breastfeeding from 37% to at least 50% by 2025.
Follow the WHO Regional Office for Africa on Twitter @WHOAFRO. The African Health Report 2014 is also available online at: www.afro.who.int/en/rdo/annual-and-biennial-reports/african-regional-health-report-2014.html
______________________________________
For more information, please contact:
• Technical contacts:
Dr Adelheid Werimo Onyango
Tel: +472 413 9743
Email: onyangoa [at] who.int
Dr Phanuel Habimana
Tel: +472 413 9407
Email: habimanap [at] who.int
• Media contacts:
Cory Couillard
Tel: + 472 413 9995
E-mail: couillardc [at] who.int
Collins Boakye-Agyemang
Tel: + 472 413 9420
E-mail: boakyeagyemangc [at] who.int