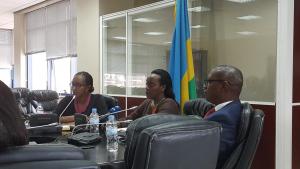 Rwanda hastens safety measures against novel coronavirus
Kigali, Rwanda, January 31, 2020 – The Ministry of Health reminded Rwanda citizens to be more vigilant on preventing novel coronavirus following the World Health Organization's declaration addressing novel coronavirus as a "public health emergency of international concern".
"No case of coronavirus has been detected in Rwanda up to now, however the citizens are reminded to be on high alert and take prevention seriously to prevent the virus. Intensive precautions, hygiene practices, communication and global solidarity are very important in ending coronavirus," said the Minister of Health, Dr. Diane Gashumba during a second press conference on the coronavirus outbreak in China.
So far confirmed cases reported were on 31st January, 7,818 globally including 7,736 in China. There were 82 confirmed cases in 18 countries outside China, these include, Japan 11, Korea 4, Vietnam 2 , Singapore 10, Australia 7, Malaysia 7 , Cambodia 1, Philippines 1, Thailand 14, Nepal 1, Sri Lanka 1, India 1, USA 5, Canada 3, France 5, Finland 1, Germany 4 and United Arab Emirates 4. India and the Philippines are the latest countries to report confirmed cases.
"During his meeting with the Ambassador of the People's Republic of China to Rwanda, Minister Vincent Biruta expressed Rwanda's appreciation to China on their handling of the Coronavirus outbreak and their support to foreign nationals including Rwandans living in Hubei Province, said Urujeni Bakuramutsa, Permanent Secretary of the Ministry of Foreign Affairs & Int'l Cooperation at the Press Conference.
Rwanda has intensified prevention by deploying a team of medics who work 24 hours at the International airport using high-tech equipment to screen all passengers and follow up on their travel history. Rwanda Biomedical Centre continuing to monitor the evolution of the outbreak and will continue to avail daily updates through its website on http://rbc.gov.rw/index.php?id=707
Coronaviruses (CoV) are a large family of viruses that cause illness ranging from the common cold to more severe diseases such as Middle East Respiratory Syndrome (MERS-CoV) and Severe Acute Respiratory Syndrome (SARS-CoV).