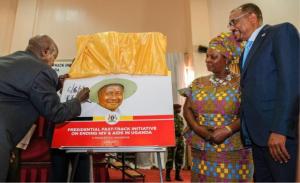 President of Uganda launches fast-track initiative on ending HIV & AIDS in Uganda by 2030
The President of Uganda H.E Yoweri Kaguta Museveni launched "The Presidential Fast-track Initiative on ending HIV&AIDS in Uganda by 2030." This is the first such initiative in Africa and the entire world.
Anchored in "A Presidential Handbook", the initiative spells out plans to tackle HIV &AIDS in Uganda through a five point plan to; Engage men in HIV prevention and close the tap on new infections particularly among adolescent girls and young women; Accelerate implementation of Test and Treat and attainment of 90-90-90 targets particularly among men and young people; Consolidate progress on eliminating mother-to-child transmission of HIV; Ensure financial sustainability for the HIV response; and Ensuring institutional effectiveness for a well-coordinated multi-sectoral response.
In his remarks the President urged men to go for HIV testing, saying "men should go for HIV testing to protect their partners; it's important to know your status and disclose to your partner to prevent further spread of HIV". He also referred to the current statistics that show 60% of men have been tested and 52% enrolled on treatment calling for the gaps to be covered. He further highlighted the need for increased sensitization and advocacy in order to create awareness in communities. He applauded the reduced number of deaths per year, standing at 28,000 deaths per year compared to 100,000 in 2004.
H.E Museveni also acknowledged the support of AIDS Development partners and affirmed his continued commitment to eliminate HIV&AIDS in Uganda.
The UNAIDS Executive Director, Dr. Michel Sidibe, noted that Uganda is a model country in the fight against AIDS saying, "Ending AIDS is an investment in human dignity and not a charity." He further said that Uganda has over one million people on treatment and this is key to achieve the 90-90-90 UNAIDS targets, which project that by 2020, 90% of all people living with HIV will know their HIV status, 90% of all people with diagnosed HIV infection will receive sustained antiretroviral therapy and lastly 90% of all people receiving antiretroviral therapy will have viral suppression.
Dr. Sidibe emphasized the need for testing boys between the ages of 15-29 in order to curb transmission.
Over the years, Uganda has made progress in the fight against HIV. The country has registered significant reductions in new infections from 135,000 in 2010 to approximately 60,000 by 2016, in men and women. Further to this, new infections among children dropped from 26,000 in 2010 to 4000 in 2016. Of the 1.4 million people living with HIV, 1,041,000 people are enrolled in care and 980,954 on antiretroviral therapy.
The UNAIDS, Fast-Track approach over the next five years will allow the world to end the AIDS epidemic by 2030. The report- Fast-Track: ending the AIDS epidemic by 2030 outlines that, by taking this approach, nearly 28 million new HIV infections and 21 million AIDS-related deaths would be averted by 2030.
The new set of targets that would need to be reached by 2020 include achieving 90-90-90. It also emphasizes the need to focus on the countries, cities and communities most affected by HIV and recommends that resources be concentrated on the areas with the greatest impact.
The approach also outlines that particular efforts are needed in the 30 countries that together account for 89% of new HIV infections worldwide. To Fast-Track national responses in these 30 priority countries will require extensive mobilization of human, institutional and strategic international partners as well as significant commitments from both national and international sources. The importance of reaching people most affected by HIV is also outlined as key to ending the AIDS epidemic and concerns are raised about access to HIV services for people most in need.
The Joint United Nations Programme on HIV/AIDS (UNAIDS) unites the efforts of 11 UN organizations—UNHCR, UNICEF, WFP, UNDP, UNFPA, UNODC, UN Women, ILO, UNESCO, WHO and the World Bank to lead and inspire the world to achieve its shared vision of zero new HIV infections, zero discrimination and zero AIDS-related deaths. It works closely with global and national partners towards ending the AIDS epidemic by 2030 as part of the Sustainable Development Goals.
__________________________________________
For more information, please contact:
Mwebembezi Edmond, Public Information Officer, Tel.: +256 414 335569, Cell: +256 782 962674, Email: mwebembezie [at] who.int