19 July 2017, Addis Ababa: Policy makers in Ethiopia had a forum on blood transfusion services in the country, followed by a three-day strategic planning meeting which was held in Addis Ababa from 17-21, July 2017.
The objective of this forum and strategic planning meeting was to ensure the improvement of the blood bank service in the country based on the WHO strategy for blood safety and availability. This important meeting was held in the presence of Minister of Health Ethiopia, Representative to WHO Ethiopia Country Office, Technical Officers from WHO Head Quarter, Geneva and WHO Africa Regional Office, the Director General of the Ethiopian National Blood Bank Service, partners as well as experts and heads from the regional health bureaus and blood banks.
Ethiopia has 24 regional blood banks and one national center in Addis Ababa which contributes to gradually increased number of hospitals to access safe blood supply. In developing countries, it is common to have a mixed model of national blood transfusion system (NBTS) and hospital-based service but this may through time replaced to NBTS as expansion increased.
The Ethiopian Minister of Health, H.E. Professor Yifru Berhane who officially opened the forum appreciated the recent positive trend and effort made by the Ethiopian government and partners for the increased access to safe blood to the majority of hospitals. He also indicated that in Ethiopia, it was possible to collect 169,000 units of blood per year and blood collection from voluntary blood donors has increased from 10% in 2011 to over 98% in 2016. The Minister also acknowledged the national and regional banks for what they contributed for this improvement.
H.E. further underlined that the country still has challenges on access to blood transfusion and hence the government remains committed in constructing more blood banks and improving the logistics and blood safety, to make blood transfusion timely accessible to those who need the service across the country. Finally, he call upon partners for further collaboration.
"We need to do everything we can to sustain the standard and quality access to blood transfusion service because blood is life", said WHO Representative to Ethiopia, Dr Akpaka A. Kalu, during his opening remarks. He also noted that Ethiopia is one of the countries that have a blood transfusion policy, strategy, and a national blood transfusion service. Dr Kalu further pointed out the WHO's two major areas of investment for Ethiopia program which includes to sustain access to blood service in the country and improve the quality of blood services. Finally, he also reconfirmed WHO's commitment to further support the Ethiopian government in its future endeavours.
WHO recommends the establishment of the national coordinated blood transfusion system governed by an appropriate legal and regulatory framework to increase confidence that agreed quality standards will be consistently delivered and to improve cost-effectiveness as well. "We have to use our time, effort, talents, and partnership to enrich the strategic and implementation plans for Ethiopia's blood transfusion services." said CDC Deputy Director,
A series of presentations by experts from WHO, partner organizations and regional presentations followed the opening remarks, which sparked lengthy discussions on the national strategic plan for blood transfusion service, funding, regional implementation, challenges and way forwards.
The World Health Organization, through its Blood Safety and Transfusion programme, supports countries in establishing and developing well organized and nationally coordinated blood systems to ensure timely access to safe and sufficient supplies of blood and blood products and good transfusion practices to meet the patients' needs. The programme also provides policy guidance and technical assistance to countries for ensuring universal access to safe blood and blood products and work towards self-sufficiency in safe blood and blood products based on voluntary unpaid blood donation to achieve universal health coverage.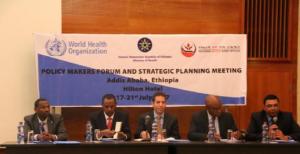 Policy Makers during a discussion following the opening remarks and presentations
Click image to enlarge
For Additional Information or to Request Interviews, Please contact:
WHO Ethiopia HSS Team Leader/Blood Safety Program Coordinator
Tel: +251922534312
Email: mainukap [at] who.int
Tel: +251 911 671134
Email: yilmas [at] who.int
WHO Ethiopia Communications Officer
Tel: +2519113009451
Email: fessehas [at] who.int