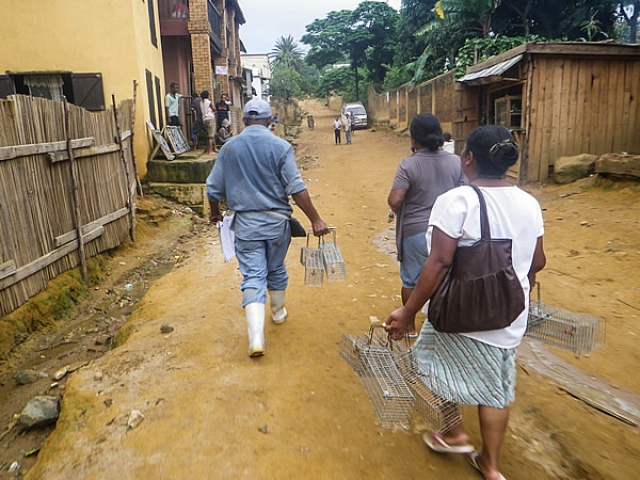 Since September 2014, 283 suspected, probable or confirmed cases, including 74 deaths have been reported for all affected areas in Madagascar. The outbreak peaked in November and December but has slowed for the time being. Health officials are keeping a close watch over the situation as the plague season on the island continues until April.

The district of Amparafavarola, in the central highlands, has been one of the most heavily affected areas, where cases of pneumonic plague have been reported during the first week of January. There is also evidence that the disease has gained a presence in slum areas of Antananarivo, the capital city, with one death related to the sole confirmed case in November 2014. Therefore, heightened vigilance need to be observed.

A National Task Force composed of the Ministry of Health, WHO, IPM, the Malagasy Red Cross and other partners are closely monitoring the disease. Actual statistics show significant improvement of the situation (continued decrease of weekly incidence). Response activities consist of free full-care of patients, chemoprophylaxis of contacts, insecticide spraying in affected areas, and handling of mortal remains and safe burials.

In order to better stop plague transmission, enhanced control measures such as improved sanitation, stronger community-based surveillance systems, rapid laboratory confirmation of suspected cases, and appropriate antibiotic treatments are required.

"WHO is fully engaged to support the local government to be able to stop and prevent the further spread of plague in Madagascar. I call upon local communities, civil society organizations, and other members of the international community to further strengthen support to address this outbreak," said Dr Matshidiso Moeti, WHO Regional Director for Africa.

Plague spreads from one rodent to another by fleas. Humans bitten by an infected flea usually develop a bubonic form of plague which cannot be transmitted person-to-person. However, if untreated, bubonic plague can evolve to the pneumonic form which can be transmitted very quickly from person-to-person through infected droplets via coughing.

Without timely and accurate treatment, pneumonic plague is one of the most deadly infectious diseases as patients can die within 24 hours after infection. The mortality rate depends on how soon treatment is started. The case fatality rate for the current outbreak in Madagascar is 26%.

The typical symptoms of plague are 'flu-like' illness with sudden onset of fever, chills, head and body-aches and weakness, vomiting and nausea. Treatment with common antibiotics such as tetracyclines, gentamycin or streptomycin is very efficient but their efficacy depends on early detection.

A robust and sensitive diagnostic test, developed at the country's Institut Pasteur has been able to produce reliable results in 15 minutes and this has greatly facilitated containment efforts.

On 4 February 2015, the African Development Bank announced a grant of US$ 1 million to support the containment of plague and other epidemic-prone diseases in Madagascar. The grant, managed by WHO in collaboration with the Ministry of Health, is being used to upgrade treatment and laboratory facilities and to purchase antibiotics, insecticides, diagnostic kits, and equipment, including personal protective equipment for front-line responders.

Implementation will involve the Ministry of Health, WHO, Institut Pasteur de Madagascar and Malagasy Red Cross. In view of the current situation, WHO does not recommend any ban on international travel or trade.
_________________________________________________
For more information, please contact:
Technical contacts:
Dr Anthony Eshofonie, Tel: +472 413 9370; Email: eshofoniea [at] who.int
Dr Peter Gaturuku, Tel: +472 413 9185; Email: gaturukup [at] who.int

Media contacts
Dr Cory Couillard, Tel: + 472 413 9995; Email: couillardc [at] who.int
Collins Boakye-Agyemang, Tel: + 472 413 9420; Email: boakyeagyemangc [at] who.int