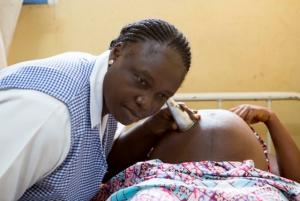 Nigeria To Reinforce Global Best Practices in Midwifery To Curb Maternal and Newborn Mortality
Calabar, 10 May 2017- The World Health Organization (WHO) and other development partners are calling for the reinforcement of global best practices in the training and recruitment of midwives across Nigeria to fast-track efforts aimed at reducing maternal and newborn mortality.
WHO is currently enhancing skills of the health workforce by training, recruitment and management of midwives towards improving maternal and newborn health indices through the Human Resource for Health (HRH) project, 'Enhancing the Ability of Frontline Health-workers to Improve Health in Nigeria' 2014-2019' which is being implemented in two states (Bauchi and Cross River) with funding from Global Affairs Canada.
WHO's support was highlighted at the commemoration ceremony of the 2017 International Day of the Midwife in Calabar, Cross River state. The event was jointly organized by WHO in collaboration with the state government, University of Calabar and UNFPA.
Various speakers at the event stressed the severe shortage of midwives in the state, especially at the Primary Healthcare Centers (PHCs)) due to inadequate production of new midwives, skewed distribution of midwives in favour of urban areas, and poor retention in the areas where they are available. They advocated for the implementation of the International Confederation of Midwives pillars to strengthen midwifery practice in the state.
Responding, the Commissioner for Health, Dr Inyang Asibong acknowledged the shortage of health workers especially midwives but noted that with WHO's support, Cross River state has now put in place, evidence-based and gender-mainstreamed HRH policy that gives government direction on provision of enabling environment for the practice of midwifery and other related professions in the state. The policy also gives a framework for matching production of health-workers to population health needs. The project is also supporting the state government to put in place, a sustainable mechanism to improve the performance and retention of frontline health workers, including midwives.
In addition, the HRH project has facilitated provisional accreditation for two schools of Midwifery from the Nursing and Midwifery Council of Nigeria. Furthermore, the project provided scholarships to tutors, procured school buses and equipped demonstration rooms for improved skills.
In Nigeria, maternal mortality data stands at 814/100,000 (2015 data) live births annually. Several cases are still unreported especially in the rural areas where most of the maternal deaths occur. The HRH support will therefore contribute towards actualizing government's aspiration of reducing maternal and newborn mortality in the country.
---------------------------------
For more information, please contact:
Technical contact:
Dr Teniin Gakuruh; Tel: +234 803 979 5149; Email: gakuruht [at] who.int
Media contact:
Ms Charity Warigon; Tel: +234 810 221 0093; Email: warigonc [at] who.int
-----------------------------------
Below:
01 - A midwife attending to a pregnant woman
02 - Cross section of participants at the 2017 IDM celebration in Cross River