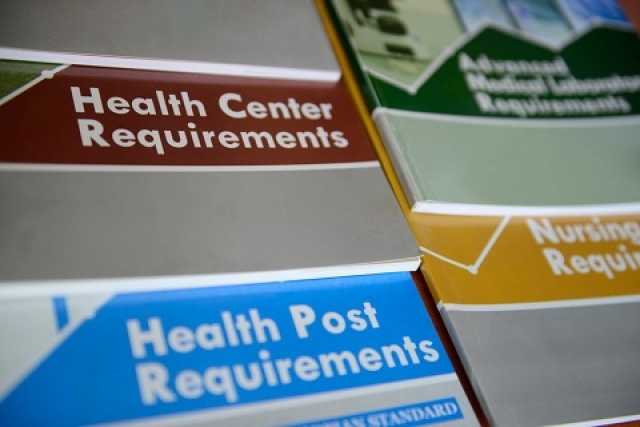 Brazzaville, 22 December 2014 – No region needs to scale up its health systems more than Africa. People get sick and die in many cases because the systems for disease prevention and control are not in place or – if they are – they do not function properly.
This is not only the case in Ebola-affected countries in West Africa but also in non-affected countries throughout the African Region. By any measure of health system function – immunization coverage, skilled birth attendance, malnutrition, and maternal and child mortality – the Region is in poor shape, despite recent improvements.
In spite of all the obstacles, a unique opportunity exists for governments to produce and implement bold strategies that can have large health and economic benefits. This is especially true for the countries affected by Ebola.
"A robust and functional health system needs to be able to absorb the shock of an emergency like Ebola but also continue to provide health services for other routine medical conditions such as diarrhoea, malaria, pneumonia, high blood pressure and diabetes," said Dr Delanyo Dovlo, Director of Health Systems & Services, WHO Regional Office for Africa.
To improve these, a coherent government-led strategy including legislation, regulation, protection of human rights, mobilization of communities, and education of the public is needed. These strategies require integrating all health services from clinical care to surveillance, health promotion, disease prevention and management, and palliative care. All services need to be people centred in order to build trust and increase utilization of services.
Countries throughout the Region must also learn from the current Ebola outbreak. Lessons learnt will be used to improve surveillance for rare and severe events from communities to the central level. It's also important for investments to be made in order for all countries to reach the core capacities required by the 2005 International Health Regulations treaty.
A critical baseline for judging a population's health is derived from the registration of births and deaths, but these vital events go unrecorded for the majority of people in Africa. All countries in the Region have vital registration data but the reported data is often incomplete.
Despite countries' efforts to strengthen their national health systems, much remains to be done. WHO and other partners are providing support to Member States throughout Africa to implement priority interventions and to strengthen health systems in an integrated way.
Disease outbreaks and catastrophes can affect countries at any time, causing substantial human suffering, deaths and economic losses. If health systems are ill-equipped to deal with such situations, the affected populations can be very vulnerable.
In 2012, the African Public Health Emergency Fund (APHEF) was established in recognition of the high occurrence of public health emergencies in the African Region and the lack of adequate resources to respond effectively to these emergencies. Funds from APHEF have helped to execute the initial response to the Ebola outbreak.
Health needs to be placed higher on the political and economic agendas of countries throughout the Region. The challenge is to make governments more aware that health has a crucial role to play in the social and economic development of their countries. Several countries affected by Ebola are now recording sharp reductions in economic growth and major disruptions in trade and social life.
_________________________________________________
For more information, please contact:
Technical contact:
Dr Delanyo Dovlo
Tel: +472 413 9388
E-mail:

dovlod

[at]

who.int
Media contacts:
Cory Couillard
Tel: + 472 413 9995
E-mail:

couillardc

[at]

who.int
Collins Boakye-Agyemang
Tel: + 472 413 9420
E-mail:

boakyeagyemangc

[at]

who.int