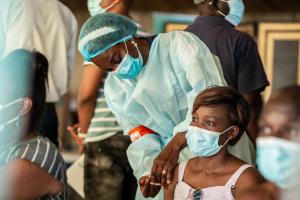 Moving forward the science of COVID-19 vaccine effectiveness in Africa
Brazzaville – Thousands of clinical trials conducted in different parts of the world have shown that COVID-19 vaccines are safe and efficacious. So why do we continue to study the performance of these vaccines – such as a recent one done in Zambia – if we already know this?
"COVID-19 vaccines were tested in controlled clinical settings where there were very strict rules for enrolling participants in the studies. So it is important for us to study how these vaccines perform in the real world. This is where vaccine effectiveness studies come into the picture," says Dr Jason Mwenda, head of the African Region Monitoring COVID-19 Vaccine Effectiveness (AFRO-MoVE) network at World Health Organization (WHO) Regional Office for Africa.
Vaccine effectiveness studies tell us things we do not yet really know about COVID-19 vaccines and are part of the process of ongoing scientific investigation. For example, what happens to vaccine performance when someone misses a dose, doesn't follow the prescribed timing between a first and second dose or uses a different vaccine for the first or second doses? What happens if a vaccine is not stored in the correct conditions or is delivered off-schedule to far-flung areas? Clinical trials were conducted at a time when the world had yet to encounter the Beta, Delta or Omicron variants, so how are vaccines performing against these variants?
These are just some of the important questions that vaccine effectiveness studies all over the world have already started to answer, showing that vaccines continue to be effective since clinical trial data became available and diseases patterns change.
But, to date, only three of the 272 vaccine effectiveness studies published worldwide have been in the African region.
To address this gap, WHO Regional Office for Africa established the AFRO-MoVE network in February 2021. Thirty partners including the national institutes of public health, ministries of health and research institutions in 18 African countries participate in the network. WHO is currently funding four of the 19 ongoing or planned studies in 14 countries in Africa, through a grant from the Bill and Melinda Gates Foundation.
So far, results from a few studies show promising results. In Zambia, four vaccine effectiveness studies have been ongoing since June 2021 among different groups of vaccinated people, including health workers, and by analysing data gathered for country's the respiratory disease surveillance system.
"In Zambia, vaccine effectiveness studies have showed that COVID-19 vaccines reduce the risk of infection, symptomatic infection, and the risk of dying while you are in the hospital during periods when Delta and Omicron variants were circulating," says Dr Jonas Hines from the United States Centres for Disease Control and Prevention and the principal investigator for the studies.
In South Africa, studies are ongoing among people who have been hospitalized with lower respiratory tract infections and, like Zambia, researchers are leveraging data from the country's pneumonia surveillance sites. Nicole Chiwandire, from the National Institute for Communicable Diseases in South Africa and co-principal investigator of the studies, is buoyed by the fact that "three studies published in South Africa already show high vaccine effectiveness against hospitalization and/or deaths during the Beta, Delta and Omicron periods."
Results of a vaccine effectiveness study among health workers in Windhoek, Namibia, will be available later in 2022. Study participants were followed up for six months at two of the largest state hospitals in the Khomas region of Namibia.
"Most of the health workers in Namibia are from the Khomas region and the two hospitals serve as a point of care for severe and critical cases, which are referred from lower-level hospitals. This makes our study site an ideal setting for a vaccine effectiveness study among health workers, says Natasha Nghitukwa, a medical officer in the Ministry of Health and Social Services in Namibia, and co-principal investigator of the study.
While the results of more studies come online, it is critical that COVID-19 vaccination continues to ramp up on the continent. Vaccination coverage remains low, with only 17.3% of the population fully vaccinated. Cases and deaths are dropping, and some may think that COVID-19 is no longer a risk. However, in the face of a fifth wave in some countries, the case for COVID-19 vaccination remains strong. Research shows that unvaccinated people are 11 times more likely to die from COVID-19 than vaccinated people.
"The more data and analysis we have, the better information we will have on COVID-19 vaccine effectiveness in Africa. This will bolster the WHO's efforts to ensure that people on our continent are protected from COVID-19 and other vaccine-preventable diseases," says Dr Mwenda.