Juba, 8 April 2019 – The World Health Organization supported the Ministry of Health to conduct a rapid investigation following a report of a cluster of unexplained deaths of 6 females and a male received from the Ministry of Health in Kapoeta State, former Eastern Equatoria.
This involved deployment of a team of experts drawn from the national and state Ministry of Health, WHO mobile medical team and Christian Medical Development (CMD) an implementing partner on the ground, comprising of clinicians, laboratory technologist, and risk communication to Kasingoro and Lopeate in Jie payam (Kapoeta East) located 152 kilometers from Kapoeta town (Kapoeta South).
The Kapoeta State Minister of health Hon. Stella Lorika in her briefing remarks appreciated the quick response by national Ministry of Health, WHO and team. She pledged her support to ensure that the team accesses the sick people and follows up on the recommended action.
Preliminary investigations established that there is no ongoing disease outbreak in the community but cases of malaria, malnutrition and WASH related problems affecting men, women and children were registered. There is a high demand for basic health services following the closure of the only health facility in the area for over two years. The community leaders interviewed revealed that death of different individuals had occurred and bodies disposed of in the forest. This manner of disposal poses a health hazard to the community.
According to Dr Olushayo Olu, the WHO Country Representative for South Sudan, progress towards health-related and broader development goals can only be possible by providing access to essential quality health care to everyone, everywhere. He urged all the health implementing partners in South Sudan to support equitable distribution of the much-needed lifesaving health services.
The team interacted with some key community informants to assess the situation, verified the reported deaths, and provided medication to those who had simple ailments. Based on the community demand for health services, CMD that is supported under the Health Pool Fund to provide health service in Kapoeta, promised to work with the State Ministry of Health to organize a mobile integrated outreach as an interim measure to serve over 20 000 population and fast-track the functionalization of the Lapeate PHCU. The Health Cluster partners will also be engaged to prioritize primary health care in hard to reach areas.
To support the mission WHO provided meningitis sample collection and transportation kits, assorted emergency medical supplies which include, Interagency Emergency Health Kits (Basic Unit and Supplementary malaria module), cholera investigation kits, and blood sample collection kits.
South Sudan has been experiencing multiple disease outbreaks and WHO with support from the United States Agency for International Development (USAID), European Union Humanitarian Aid (ECHO), South Sudan Humanitarian Fund (SSHF) and other partners established Rapid Response Teams in all the States to enhance vigilance and ensure prompt investigations and response. According to the Ministry of Health, only 44% of the population of South Sudan have access to health facilities (live within 5 kilometers radius). Increasing availability and access to the health care services is a top priority for the country has remained challenging due to poor infrastructure, insecurity and fragile health system.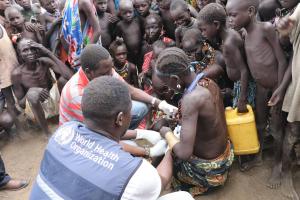 Click image to enlarge
For Additional Information or to Request Interviews, Please contact:
WHO Health Emergencies Program (WHE)
E-mail: ladua [at] who.int
Mobile: +211912100047/ +211920999951

Medical Mobile Team/WHE
Email: odraw [at] who.int
Telephone: +211 929 246 505
Email: dibad [at] who.int
Tel.: +211917167517
Ms Luwaga Liliane Christine
Communication Officer (Health Promotion/Risk Communication focal person)
Mobile: +211 (0) 921647860
Email: luwagal [at] who.int