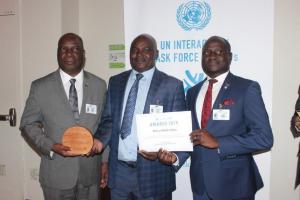 Malawi receives the UN Interagency Task Force award for instituting strategic steps towards the prevention and control NCD
Lilongwe 9 October - On 23 September 2019, during the United Nations General Assembly high level meeting the Minister of Health, Mr Jappie Mhango, MP received the United Nations Interagency Task Force award because of the commitment demonstrated by Malawi towards the control and prevention of non-communicable diseases (NCDs).The occasion took place at the United Nations building, conference room number 7 in New York. The Non-Communicable Diseases Synergies and Social change at Harvard Medical School was the one that recommended the nomination of Ministry of Health and Population in Malawi after noting the ministry's leadership in instituting strategic actions towards prevention and control of NCDs.
In his speech when accepting the award on behalf of the Malawi government, the Honorable Minister thanked the United Nations Interagency Task Force for recognizing Malawi on the tremendous efforts made so far in the prevention and control of NCDs.
"The historic perspective shows that in the 1960s and 1970s NCDs were not an important public health problem as prevalence was 1%. Today NCDs and their risk factors constitute a public health problem as they contribute more than 30% of disease burden and are ranked fourth as a cause of disability adjusted life years," Honorable Japppie Mhango, MP said.
The minister went on to elaborate that the most notable steps the Ministry of Health took, with technical support from the World Health Organization were, among others, that in 2011, after successfully completing the WHO STEPs survey for Non-communicable diseases and their risk factors, the results justified the establishment of the NCD Unit in the 2011/12 financial year.
The unit's main function is coordinating the national response to NCDs. The ministry also adapted the WHO-Package for Essential Non-Communicable Diseases (WHO PEN) in the management of NCDs and are currently in use. It is in this regard that NCDs are in the essential health package of the recently launched Health Sector Strategic Plan (2017-2022).
In addition to introducing the Human Papilloma Virus Vaccine (HPV) targeting 9-year-old girls to prevent and control cervical cancer, the ministry with the support of WHO in collaboration with NGOs and the civil society in August 2017 launched the National Alcohol Policy. The goal of the policy is to implement evidence based "WHO best buy" interventions to reduce harmful use of alcohol which is one of the NCD risk factors. The policy is premised on implementing strategies that regulate availability and accessibility of alcohol products to the population.