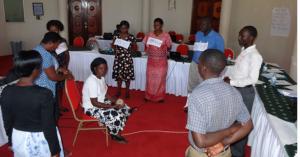 Making health services a safe place for women: Uganda steps up to support women subjected to violence
November 2017 : Violence against women is a global public health problem. In Uganda, more than half of all women have experienced violence at least once in their life, most likely from an intimate partner, leaving them feeling unsafe in the place they should feel the safest – their home.
Women who have experienced violence are more likely to contract sexually-transmitted infections including HIV, suffer injuries, have an alcohol use disorder, experience depression, attempt suicide, or suffer other health consequences, so the health system is a key player in supporting survivors.
To address the issue, the Ugandan Ministry of Gender, Labour, and Social Development, along with the ministries of health, justice and education, among others, have developed the National Action Plan on the Elimination of Gender-based Violence. The Action Plan focuses on implementing the country's laws and policies on domestic violence and marital rape, providing health services for survivors, raising awareness and training police and health workers on how to respond.