Liberia joins the global community to commemorate the World Antibiotic Awareness Week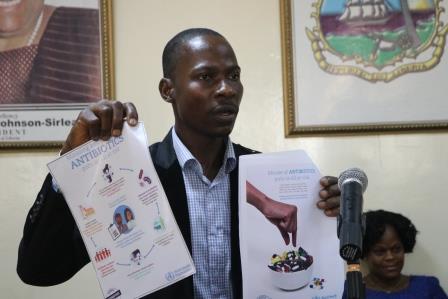 Monrovia, 19th November 2017: Antibiotics are important medicines used to    prevent or treat bacterial infections. Antibiotic resistance, a change in bacteria's response to antibiotics has been recognized as one of the serious threats to global health, food security and development. Common infections such as pneumonia, tuberculosis, typhoid fever etc., are becoming harder to treat as antibiotics become less effective. Antibiotics misuse, overuse and ignorance are some factors contributing to antibiotic resistance. The World Antibiotic Awareness Week (WAAW) is commemorated every year from 13th – 19th November 2017. The theme for this year: "Seek advice from a qualified health professional before taking antibiotics" is aimed at advocating, promoting awareness on the global impact of antibiotic resistance and to encourage best practices amongst the general public, health workers and key stakeholders. The Ministry of Health - Liberia and the World Health Organization (WHO) joined the global community to commemorate the world antibiotic awareness week for the first time in Liberia to improve public awareness and understanding of antibiotic resistance.
The activities undertaken included:
advocacy meetings involving religious groups, partners and key stakeholders;

creating public awareness using simplified Liberian English on mass media including Liberia Broadcasting System, United Nation Missions in Liberia Radio and at Ministry of Information, Culture and Tourism's (MICAT) weekly Press Conference;

creating awareness at health facilities and schools on the dangers of antibiotic misuse in the 15 counties of Liberia;

d

istribution of flyers with key facts;

and raising awareness on the social media (Facebook).
Rev. John Sumo, Director of Health Promotion at the Ministry of Health, in his launching statement stressed that antibiotics are essential for the treatment of many infections in Liberia including pneumonia. The misuse of medicines by the public contributes to antibiotic resistance.  Rev. Sumo also indicated that the common practice of purchasing medications for common illnesses from drug stores and black baggers (drug peddlers) without advise from trained health worker should be discouraged.  He called on the public to seek advice from a qualified healthcare worker before taking antibiotics as this will help in preventing antimicrobial resistance (AMR).
Rev. Tijli Tyee, Chief Pharmacist of the Republic of Liberia, noted that when infections can no longer be treated by first-line antibiotics, patients are required to purchase more expensive medicines leading to a longer duration of illness and high economic burden on families and societies. He informed the public that the government is working with partners in developing strategies including antimicrobial national action plan to address current gaps.
Speaking to the media, Dr April Baller, Team Lead for Infection Prevention Control & Control (IPC) and Case Management Team at WHO-Liberia, noted that tackling antibiotic resistance is a priority for WHO globally. WHO is supporting member states to translate the global AMR action plan into national AMR action plans.
Mr. Moses Bolongei, National IPC Officer at WHO, emphasized the importance of proper hand washing, cleaning instruments and healthcare environments and only prescribing antibiotics when indicated. He urged healthcare workers to educate patients on how to take antibiotics correctly. He further pointed out that the practice of sharing or using leftover antibiotics leads to antibiotic resistance.
Healthcare workers at various health facilities visited recommended that the awareness be continued at all levels to educate and empower the public, and they pledged to provide more health education on medication safety including antibiotic resistance. The issue of stock out of essential medicines including antibiotics, as well as the practice of self-medication by the public, were also highlighted by healthcare workers during the campaign as key challenges.  Some patients indicated that little education is provided them by healthcare workers on medications; "many times, the doctors and nurses only give us pieces of paper to go buy medicines and antibiotics from the drug store and we do not know if the medicines there are good or not," one patient explained at Duport Road Health Center in Monrovia.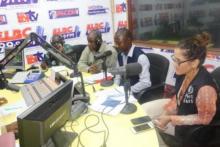 For Additional Information or to Request Interviews, Please contact:
HIP officer
Email: lakev [at] who.int