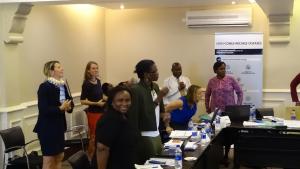 Legislation is key to promotion of healthy diet and physical activity
Non-communicable diseases (NCDs) kill 15 million people between the ages of 30 and 69, and over 86 per cent of these "premature" deaths occur in low- and middle-income countries.The economic impact, including loss of income by people harmed by NCDs, the costs of treatment, and the impacts on families threaten international development. Through regulation and fiscal reforms, countries can promote healthy diets, physical activity, and other initiatives reducing the prevalence and harms of NCDs.
The United Republic of Tanzania with support from WHO, the International Development Law Organization (IDLO) and International Development Research Centre (IDRC) is implementing a 3-year Programme (Global RECAP) with the aim to strengthen capacity of key actors to promote healthy diets and increase physical activity for the prevention of NCDs. Program activities focus on capacity building for more effective regulatory and fiscal interventions, supporting the development and use of relevant research, and convening multi-stakeholder dialogues and collaboration between civil society, academia, and government stakeholders.
A national workshop was organized early in October for personnel from the Ministry of Health- NCD, Nutrition and Legal Departments, Food Regulators and National Beureau of Standard, representatives from academic and research institutions and civil society organizations. Workshop was facilitated by experts from WHO Headquarters, Regional, IST and Country Offices; IDLO and University of Cape Town.
The purpose of training was to strengthen national capacity to develop, defend, implement, enforce and evaluate legislation, regulations and fiscal policy to promote healthy diet and physical activity at a population level. A number of topics were covered including:
Using law and regulation to promote healthy diets
Using legislation / regulation and other national policy initiatives to take action on promoting physical activity
Constitutional rights and responsibilities in Tanzania
International and domestic human rights law – including relevant domestic litigation
Trade and investment agreements (Tanzanian context)
Policy cycle – including considerations for legislative design and drafting
Addressing gender issues
Role of civil society and academic institutions
The outcome of the training was a plan of action to progress the planned regulatory and fiscal measures to promote healthy diets and physical activity under the RECAP programme, in alignment with the needs, priorities and strategies of the Ministry of Health in Tanzania Mainland and Zanzibar.
The Global RECAP Program is funded by the Swiss Agency for Development and Cooperation and the OPEC Fund for International Development.