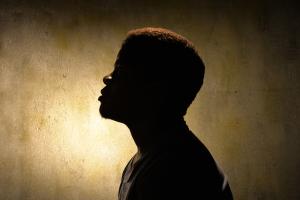 A lecturer of pharmacology and the heartache of drug resistance
Owolabi's wife of 19 years died after a brain tumour was successfully removed. He tries not to blame the hospital where she contracted the infection that killed her. He understands sterile conditions are difficult to maintain in even the best of Nigerian facilities. And he believes his wife was treated in one of the country's best hospitals.
She had been sick for months with vague symptoms wrongly diagnosed as a premenopausal state. She was hospitalized at one point and discharged. When her symptoms worsened, an emergency MRI revealed the tumour.
Although it was a complex, nine-hour procedure, it was common for the surgeon. The anaesthetist ordered potent antibiotics, including ceftriaxone (Rocephin) for infection prophylaxis. "After surgery, I was there until about 9 p.m.," Owolabi remembers. "She was fully conscious. I saw her smiling to me, and I waived back. I wasn't allowed to get close to her at the ICU. I didn't want to stress her."
Owolabi went home where their three children waited anxiously. The ringing phone jerked him awake at 2 a.m.
He was needed in the hospital immediately, without explanation. He would learn hours later that his wife was overcome with fever. "The doctor asked where I lived. I told him, and he said it is too dangerous to drive in the night." He was worried about the crime in some areas of their Nigerian city. They thought his wife's condition stable enough to wait till morning.
Owolabi rushed to the ICU at 6 the next morning. His wife's consciousness had deteriorated. There was suspicion of raised intracranial pressure. The plan was a second surgery to check for bleeding. Owolabi signed the consent form. "I was ready to give anything to save her life," he says.
There was no bleeding but severe swelling of the brain. They tried to decompress the brain so it could breathe.
Forty-eight hours after the second surgery, her temperature and pulse rate spiked. It became evident that although the tumour was gone, an infection had snuck into her system, most likely where that first incision had been made. And the infection had not been hindered by the strong antibiotic prophylaxis.
A blood culture and markers of sepsis were ordered, among other investigations. The doctors increased the antibiotic arsenal by adding Meropenem. It being Nigeria where malaria is endemic, they added antimalarials.
All possible methods were used to bring down the high fever, including tepid sponging. They yielded little or no result. In short time, she fell into shock, with her blood pressure plummeting to 60/40 mm Hg. Her consciousness further deteriorated. She was placed on life support with inotropes to support her blood pressure.
The blood culture results revealed growth of coliforms resistant to all antibiotics tested. The doctors decided to try colistin, an antibiotic of last resort, that is scarce, expensive and toxic. But the drug had to be flown from the United Kingdom by a pharmacist relative of Owolabi after his "agonizing and exhaustive search for it in Nigeria was not fruitful".
Despite the colistin, Owolabi's wife remained unresponsive in the hospital for seven weeks, calm and quiet. At about week six, the fever switched to hypothermia, with her temperature dropping as low as 36.2˚ C.
Owolabi had been on leave from his university where he taught pharmacology and rarely left her side. His eldest daughter was studying for university exams while his eldest son was preparing for his final college and university entrance exams. He was torn and confused over how to handle the children. It was their mother in hospital as well as his wife. They deserved to know what was going on, he thought. He brought his daughter one day.
Owolabi saw his wife in a dream one night. "She came to give me a hug." Then she said goodbye. She died two days later.
Towards the end, the doctors agreed it was septicaemia caused by antimicrobial resistance – a global public health crisis that kills around 700 000 people annually. They would never know the source. Possibly the operating theatre. Possibly the intensive care unit.
Owolabi may not blame the hospital, but there is anger for the way of life in his country – for the financial hardships and the ease of buying medications without prescriptions that allows millions of people to self-medicate, many times incorrectly. "The uncontrolled distribution of these drugs is the problem," he says. And which is how the microbes that sneak into humans and animals can mutate as they evolve to resist the medicines designed to wipe them out.
He has returned to teaching and turned up the volume on his lectures on antibiotics and other anti-infection medicines and the responsible use of them. "My experience has had an impact on my life and my teaching of pharmacology," he says solemnly. He tells his colleagues and his students, many who will go into medicine and others into pharmacology, about the enormity of the problem. "You need to be more responsible with prescriptions and the management of infection," he commands.
He does not often mention his wife to his students. "But she has an influence on what I teach about antibiotics."
Owolabi asked to remain anonymous.