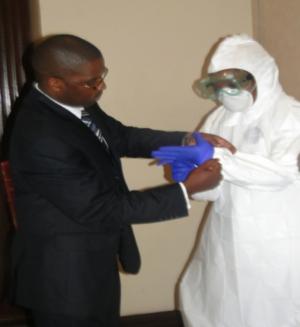 Kenya steps up its EBOLA Contingency Plan with training of trainers
Kenya stepped up its contingency plan for Ebola Preparedness and Response this week with the training of health workers and medical personnel.
In the next two weeks, the country will roll out a countrywide Ebola training in all the 47 counties targeting 60 per cent of all health personnel. The training will target managers (clinicians, epidemiologists, and health promotion experts), other health workers and major health facilities. It will also target health personnel at airports and ground crossing. WHO country office has deployed over 10 technical personnel to facilitate the training. Other facilitation personnel are from Ministry of Health (MOH), Kenya Medical Research Institute (KEMRI and Kenyatta National Hospital. The government has given a grant of Sh 350 million ($4 million) towards Kenya's Ebola Preparedness and Response. Kenya is unaffected by the Ebola outbreak currently but has potential risk of spread because of its strategic position as an international transportation hub.
The Training of Trainers (ToTs) workshop brought together doctors, nurses and public health personnel from Nairobi and representative counties. The training focused on key subjects on the disease and its spread and management including: prevention and control, transmission, surveillance, laboratory diagnosis and management of patients and the nature Ebola Virus Disease (EVD). It also covered suspect screening, transportation of patients and management of patients and health facilities. The training is part of the capacity building function of Kenya's Contingency Plan which was set to handle the preparedness and response to Ebola. The trained personnel form the national rapid response team which will be ready and available should there be an outbreak.
The Plan set out by the Ebola Task Force is also overseeing the capacity building of health facilities in identified locations for preparedness. Kenyatta National Hospital, the largest referral hospital in Kenya, has set aside a temporary isolation facility but is also constructing a more permanent one.
The task force is also coordinating and implementing surveillance through screening of travellers at international entry points and ground crossing. It is also disseminating information through various media channels and overseeing laboratory capacity to ensure readiness for detection of any case.
So far, Kenya Medical Research Institute, KEMRI, has tested at least 20 alert cases all of which have been negative to Ebola. KEMRI, is a WHO-recognized laboratory for testing and confirming Ebola cases. It has capacity to serve the sub-region. Speaking on the significance of safety of health workers in relation to the transmission of Ebola, Dr Daniel Langat, a medical epidemiologist from the Ministry of Health emphasized the caution that health workers needed, to avoid contact with any body fluids, the prime way through which transmission of EVD occurs.
Dr Langat said health care workers had been infected while caring for EVD patients or through close contact with patients when infection control precautions were not strictly practiced. Relatives can also be infected while caring for their loved ones or contact with bodies of Ebola victims, through burial ceremonies and practices and possible sexual transmission.
The session in which participants had to don and remove Personal Protective Unit (PPEs) drew most attention and interest with most realizing how demanding and significant the process was. "You have to make sure all parts of your body are covered to avoid any contamination through fluids", Dr Lynda Makayoto who led the session, cautioned.
Dr Joyce Nato, WHO, emphasized on the psychosocial support and its importance in the management of Ebola. She said this was significant because care givers and health personnel faced isolation and stigmatization because of associating with Ebola patients.
She said for Ebola disease, information was vital and those providing Psychosocial First Aid (PFA) could help to dispel myths and share clear messages about healthy behaviour and better knowledge on people's understanding of the disease.
PFA offers humane, supportive and practical help to suffering serious crisis or help others who have experienced an extremely distressing event.
Participants also learnt about how to communicate effectively about EVD and the importance of communication and awareness creation as well as passing relevant and important messages to the different audiences.