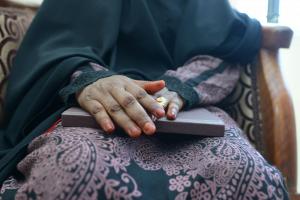 House by house, telling girls and families the dangers of female circumcision in Kenya
For three days, Sadia Hussein struggled in labour with the birth of her first daughter. The traditional birth attendant could not deliver the baby due to the constricted birth canal – the direct result of the female circumcision Sadia was subjected to when she was 10 years old.
Mother and baby were both in jeopardy. And the pain that Sadia can never forget was a deep agony.
By will or luck, or both, the baby made it safely into the world but not peacefully into the arms of her mother, who endured six weeks more of physical and psychological distress.
"I did not have time to bond with my newborn daughter for the first 40 days. My entire body was in pain. I looked at my 1-month-old daughter and made a promise that she will never face the circumciser's cut," Sadia recalls defiantly 11 years later, as the International Day of Zero Tolerance for Female Genital Mutilation approaches.
From her own tormenting moment, she began a lone-woman campaign in her Kenyan village to discourage the centuries-old practice of what is now considered female genital mutilation by the World Health Organization (WHO), health professionals and women like Sadia and other activists.
No girl or woman should ever go through such a harrowing practice, Sadia tells families, guardians, girls, boys, men, religious leaders and women circumcisers in her Tana River County in coastal Kenya, where 22 women have joined with her at the community level through the Dayaa Women's Group to spread awareness on the harmful effects of female genital mutilation.
Each woman working with her has a different personal story, but they seem united in sharing lasting damage due to their circumcision experience. Many endure debilitating menstrual pain every month. Like Sadia, many experienced similar tormenting births of their children.
Some women were left with obstetric fistula, an abnormal opening between the genital tract and the urinary tract or rectum. Obstetric fistula is directly linked to one of the major causes of maternal mortality – obstructed labour, and women suffer constant incontinence, shame, social segregation, health problems because of it. Some women's marriage ended in divorce also because of it.
A global public health concern and a condemned practice
Female genital mutilation is a global public health concern, affecting at least an estimated 200 million girls and women. WHO and UNICEF estimate that more than 3 million more girls younger than 15 years are annually at risk of female genital mutilation or cutting. The procedure entails the partial or total removal of the external female genitalia and other injury to the female genital organs for non-medical reasons.
It is practised in more than 29 countries in Africa, even though it is outlawed to varying degrees in 25 of them. It is predominant in Egypt, Eritrea, Ethiopia, Guinea, Mali, Sierra Leone, Somalia and Sudan.
The practice has persisted for more than two centuries because of strong social-cultural beliefs. It often takes place in secret and is considered a rite of passage for girls up to age 15 years, although typically not done with their informed consent and with some procedures performed as early as infancy. Some young women (older than 15) are forced to undergo the cutting as well.
Although Kenya banned female circumcision in 2011, the Kenya Demographic Health Survey data indicate a trend in circumcising at a younger age over the past decade. In 2014, one out of every two circumcised women aged 15–19 (or 46%) had been cut between the age of 5 and 9 years, while only 17% of women aged 45–49 years had been cut at that age.
Girls who are not "cut" are considered unclean and unfit for marriage by communities who defend the practice.
WHO condemned the practice of the procedure by health care workers, in 1979, as an outcome of the first international conference on female genital mutilation in Khartoum, Sudan. WHO continues to advocate with governments to enact and enforce laws against the practice across the region while training health-care workers to better manage the physical and psychological complications associated with female genital mutilation and to engage with individuals, families and communities towards elimination of the practice.
Dr Joyce Lavussa, a WHO reproductive health expert, says health workers from the communities that engage in the practice view it as a way of fulfilling their religious or cultural obligation. "Most health-care workers are not aware about the national laws on [female genital mutilation] and continue to 'assist' those requesting it for either monetary reward or in the belief that they are offering a cleaner, safer option," she explains.
Sadia contends that health workers performing female genital mutilation has become common practice in Kenya, even attracting persons from nearby countries. "Female genital mutilation in any setting is illegal. It is still unacceptable even when done by a health worker," she says. One of the greatest challenges in her advocacy work is convincing communities that there is no religious authorization for the practice.
But she is making some progress.
No religious text promotes female circumcision
"Working with religious leaders is very powerful and convincing because they allude that female genital mutilation is not supported by religion, hence, should be abandoned," Sadia reports.
She also argues that a realistic discussion with the women who perform the procedure is urgently needed to show them the dangers of the cultural practice. "We need to move beyond telling them that it's illegal. We need to show them that it puts the girls' lives in danger," she says. With the other Tana River County activists, she has so far convinced two circumcisers to abandon the practice, with payment of 12 goats each.
Sadia moves from one household to another passionately imploring the end to the practice, comparing her experience with women from non-circumcising communities who had less-complicated deliveries. She and her husband chose to protect their three daughters from circumcision, and her extended family has joined in her advocacy efforts.
"I have talked to my daughters and other girls and explained that they are still beautiful, worthy and respected even if they do not undergo female genital mutilation," says Sadia.