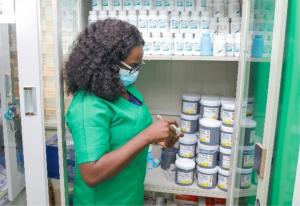 HIV/AID-protection and early detection, promise of health
Uyo, 7 December, 2021 - To Ms Emmanuela Ezekiel will never forget the day, 12 years ago, when her life took a painful turn.
The 39-year-old lady was living with her husband in Uyo, Akwa Ibom when she felt sick and decided to visit the hospital. After running series of tests, she was confirmed HIV (Human Immunodeficiency Virus) positive at the age of 28.
"I felt feverish for a while then it advanced to sore throat and fatigue, everything seemed normal until when I took the HIV test. I was lucky as the doctors said it was in an early stage and I was instantly put on antiretroviral therapy. I was hurt when I found out, I cried for more than three weeks. I still cry but I don't allow my status to stop me from working towards my goals in life. I became undetectable after some time of taking my medications so that gave me a lot to look forward to."
On having access to medication and care, Emmanuela mentioned that she used to buy her medication secretly as she did n0t go to HIV centers for fear of stigmatization, but now she goes because of the counseling she has been receiving. "People do not understand our predicament, they still do not know how this virus is transmitted so they immediately cut you off as soon as they know you are living with HIV" she says.
"I still work and I am perfectly okay with the medication I am taking. I hardly fall sick. People need to understand that HIV is not a death sentence and with the right medication and diet you can live like every other human being."
Emmanuella finally urged people to stay away from unprotected sex and get tested as soon as they feel anything unusual as early detection prevents the virus from progressing to AIDS (Acquired Immunodeficiency Syndrome). "People should go to their nearest HIV center as soon as they get an exposure that you are not comfortable with, it can save them from HIV."
Nigeria has the second-largest HIV epidemic in the world. Although HIV prevalence among adults (1.3%) is much less than other sub-Saharan African countries such as South Africa (19%) and Zambia (11.5%), the size of Nigeria's population means 1.8 million people were living with HIV in 2019.
Approximately 45,000 people died from AIDS-related illnesses in Nigeria in 2019. Since 2010, AIDS-related deaths have decreased by 35% to 2019, and 89% of those with a positive diagnosis in Nigeria are accessing antiretroviral treatment (ART).
Every December 1 the World Health Organization (WHO) in collaboration with The Joint United Nations Program on HIV and AIDS (UNAIDS) commemorates World AIDS Day – a day created to raise awareness about HIV and the resulting AIDS epidemic. It is also an opportunity for people worldwide to unite in the fight against HIV, show their support for people living with HIV, and remember those who have died from an HIV-related illness.
Since the beginning of the epidemic in 1988, 79.3 million people have become infected with HIV, as per UNAIDS estimates. HIV has claimed over 36.3 million lives, according to WHO and it continues to be a major global public health issue.
This year 2021 theme "End inequalities. End AIDS. End Pandemics" highlights the urgent need to end the inequalities that drive AIDS and other pandemics around the world. Without bold action against inequalities, the world risks missing the targets to end AIDS by 2030, as well as a prolonged COVID-19 pandemic, and therefore stresses the need to put in more effort in dealing with the disease.
To support this, WHO has actively supported the review of the Nigeria's treatment and PMTCT programme (NTPP) too improve efficiency, service quality including for key populations and to achieve impact and make treatment program sustainable. The WHO is also supporting the implementation of the NTPP; a National Plan of Action.
Technical Contacts:
Dr Jean Baptiste Anne Eudes; Email: jeana [at] who.int;
Dr Oluwafunke Ilesanmi; Email: ilesanmio [at] who.int;