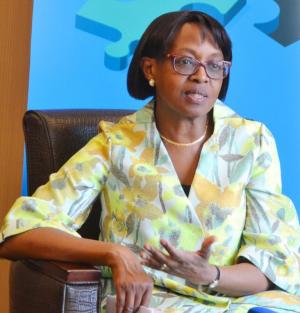 Historic launch of malaria vaccine pilots in Africa
April 24, 2017: The announcement of the piloting of a malaria vaccine in Africa by the WHO regional director for Africa Dr Matshido Moeti this week marks a historic but realistic moment towards the effort to ease the malaria disease burden and save lives in Africa.
Dr Moeti presided over the high level malaria event in Nairobi ahead of World Malaria Day, where she announced the selection of three countries, Kenya, Malawi and Ghana, for the vaccine pilot testing.
She said the malaria vaccine (also called "RTS, S") would be used to complement the existing toolbox of proven preventative, diagnostic and treatment measures. RTS,S is the first malaria vaccine to have successfully completed the phase three clinical trial and to have obtained positive scientific opinion from a stringent regulatory authority, the European Medicines Agency, EMA. Trials were conducted in 2009-2014 in seven African countries including the three that will take the piloting further.
Dr Moeti said the search for an effective malaria vaccine had been on-going for 30 years and that RTS,S vaccine, which was the most advanced, had been shown to provide partial protection against the malaria parasite, Plasmodium falciparum, in young children.
"I'm excited to tell you that right now, malaria vaccines are looking very promising, with over 20 candidate vaccines in various stages of development. "
She said the pilot programme would be implemented in close collaboration with ministries of health of the three participating countries and a range of in-country and international partners. WHO will coordinate the exercise. The vaccine will be administered through the routine immunization programme.
The event was attended and addressed by Kenya's Health Cabinet Secretary Dr Cleopa Mailu and partners from various organizations including PATH, CDC, USAID, UNICEF, Roll Back Malaria and high level officials of the Ministry of Health. Dr Pedro Alonso, the WHO Director of Global Malaria Programme, WHO Country Representative, Dr Rudi Eggers, and various other malaria experts from the region and in-county also attended.
Dr Mailu said Kenya had adopted universal coverage with prevention measures as a key strategy and was committed to sustaining it. He said Kenya had distributed 16 million long lasting insecticide nets (LLINs) in 36 counties and that about two thirds of Kenyan households (63 %) own these bednets, an improvement from 2010. He acknowledged the support and partnership between government and development partners, the private sector and civil society adding that existing gaps in the malaria programme needed to be addressed and 'fragile gains secured'.
Dr Moeti said the proven preventive measures of malaria were the bednets which are the mainstay of malaria prevention and the most powerful intervention, the spraying of indoor walls and ceilings with insecticides to kill malaria-carrying mosquitoes and the preventive treatment for pregnant woman which have been in use over the last five years. For example, bednets were responsible for preventing 69% of the 663 million malaria cases that were averted globally between 2001 and 2015
Progress
She said Africa had made significant progress in the last five years by expanding access to life-saving malaria control tools for people at risk of the disease. As a result, the 2016 World Malaria Report revealed that between 2010 and 2015, the rate of new malaria cases fell by an estimated 21% region-wide. Malaria deaths fell by 31 % in the same five year period.
Dr Moeti called for collective attention and intensified action towards key global and regional targets in order to address coverage gaps that still exist.
About 43% of people at risk of malaria in the African Region were not protected by either LLNs or indoor residual spraying, she said. Close to two thirds (69%) of pregnant women in sub-Saharan were not accessing the recommended three or more doses of preventive treatment, she added. Challenges in delivery of interventions include weaknesses in health systems particularly, in the areas of commodity supply management, disease surveillance, and human resources for health.
She urged Member States and partners to "mainstream malaria control in health and development policies and plans; mobilize domestic and international funding; foster public private partnerships, support alignment of stakeholders around country priorities and provide guidance and assistance to ensure efficient use of resources for performance and impact".
The hope in ending malaria lay in strong local partnerships and inter-sectoral collaboration including academia and research institutions, development partners and civil society, she added.
"Most importantly, community empowerment and engagement for effective adoption and deployment of simple and cost-effective interventions remains key in filling implementation gaps".
She pledged the full commitment of WHO in continuing to provide the best possible support to the common vision of an African Region free of malaria.
The Vaccine
The pilot programme will assess feasibility of delivering four doses in real life settings, and asses the vaccine's potential role in reducing childhood deaths.
The vaccine will be administered through the routine immunization programme. Children who take the vaccine will still need to take the usual malaria control precautions such as sleeping under s bednets.
In the clinical trials, the vaccine was seen to prevent 4 out of 10 malaria cases in children who received all four doses for over four years following vaccination. During phase 3, it t reduced the number of malaria cases by half in children aged 5-17 months old over the first year following vaccination. The fourth dose is given at 15-18 months after dose three.
The vaccine helps to reduce the number of episodes of malaria in children and has potential for considerable public health impact against clinical malaria especially in high-transmission settings.