Buikwe, 26 June 2018 – The Government of Uganda has launched today a new rotavirus vaccine to protect under five-year-old children from diarrhea. The vaccine, which will be available for free in health facilities throughout the country, is the 11th vaccine to be added into the national schedule of the expanded programme on immunization in Uganda. Rotavirus vaccine is safe and can be administered simultaneously with other routine infant vaccines. It is given orally and requires two doses at 6 and 10 weeks of age, with an interval of at least 4 weeks between doses.
Rotavirus infection is the leading cause of diarrhea in children under five and it is highly contagious. It poses an exception to typical diarrheal disease management rules. While improved access to clean water and better sanitation and hygiene practices are vital to preventing most diarrheal diseases, they have done little to disrupt rotavirus infection. The virus may cause severe, dehydrating diarrhea in young children and, in untreated cases, lead to death.
Globally, according to the World Health Organization, an estimated 450,000 children under five years of age die each year from vaccine-preventable rotavirus infections. Diarrhea is among the top ten causes of morbidity in Uganda, with rotavirus being responsible for about 40% of all diarrheal cases.
Speaking at the launch of the vaccine in Buikwe, the Minister of Health, Honorable Dr. Jane Ruth Aceng, announced that Rotavirus vaccine is now available in Uganda. She appealed to Ugandans to take their children at 6 weeks and 10 weeks of age for rotavirus immunization to the nearest health facility. "An estimated 10,637 children under five years of age die in Uganda each year due to rotavirus diarrhea," Aceng said. The Minister emphasized the Uganda Government's commitment to fight against vaccine-preventable diseases and accelerate reduction in child morbidity and mortality.
The introduction of the rotavirus vaccine into the routine immunization schedule has been financed by Gavi, the Vaccine Alliance, with technical support from WHO and UNICEF.
"This vaccine will help save the lives of thousands of children in Uganda by combating severe diarrhea," said Gavi Deputy CEO Anuradha Gupta. "The introduction of rotavirus vaccine marks a key milestone in the country's commitment to improving the health of all children and I'd like to commend the Government for its efforts to provide a bright future for Uganda's next generation."
"WHO emphasizes the use of Rotavirus vaccines to be part of a comprehensive strategy to control diarrhea diseases with the scaling up of both prevention and treatment packages," said WHO Representative Dr. Yonas Tegegn Woldermariam.
The UNICEF Representative in Uganda, Dr. Doreen Mulenga, congratulated the Ministry of Health for making further progress in securing children's health by introducing a rotavirus vaccine into its national immunization programme and called upon parents, guardians and caregivers to ensure that all infants are immunized against rotavirus. She added that vaccination is one of the best ways to protect children from serious childhood diseases.
END
About Gavi
Gavi, the Vaccine Alliance is a public-private partnership committed to saving children's lives and protecting people's health by increasing equitable use of vaccines in lower-income countries. The Vaccine Alliance brings together developing countries and donor governments, the World Health Organization, UNICEF, the World Bank, the vaccine industry, technical agencies, civil society, the Bill & Melinda Gates Foundation and other private sector partners. Gavi uses innovative finance mechanisms, including co-financing by recipient countries, to secure sustainable funding and adequate supply of quality vaccines. Since 2000, Gavi has contributed to the immunisation of nearly 640 million children and the prevention of more than 9 million future deaths. Learn more at www.gavi.org and connect with us on Facebook and Twitter.
Gavi, the Vaccine Alliance is supported by donor governments (Australia, Brazil, Canada, Denmark, France, Germany, India, Ireland, Italy, Japan, the Kingdom of Saudi Arabia, Luxembourg, the Netherlands, Norway, the People's Republic of China, Republic of Korea, Russia, South Africa, Spain, the State of Qatar, the Sultanate of Oman, Sweden, United Kingdom, and United States), the European Commission, Alwaleed Philanthropies, the OPEC Fund for International Development (OFID), the Bill & Melinda Gates Foundation, and His Highness Sheikh Mohamed bin Zayed Al Nahyan, as well as private and corporate partners (Absolute Return for Kids, Anglo American plc., The Children's Investment Fund Foundation, China Merchants Group, Comic Relief, Deutsche Post DHL, the ELMA Vaccines and Immunization Foundation, Girl Effect, The International Federation of Pharmaceutical Wholesalers (IFPW), the Gulf Youth Alliance, JP Morgan, "la Caixa" Foundation, LDS Charities, Lions Clubs International Foundation, Majid Al Futtaim, Orange, Philips, Reckitt Benckiser, Unilever, UPS and Vodafone).
About UNICEF
UNICEF promotes the rights and well-being of every child, in everything we do. Together with our partners, we work in 190 countries and territories to translate that commitment into practical action, focusing special effort on reaching the most vulnerable and excluded children, to the benefit of all children, everywhere.
About World Health Organization
WHO provides leadership on matters critical to health and engaging in partnerships where joint action is needed; shape the research agenda and stimulating the generation, translation and dissemination of valuable knowledge; sets norms and standards, and promoting and monitoring their implementation; articulates ethical and evidence-based policy options; provides technical support, catalysing change, and building sustainable institutional capacity; and monitors the health situation and assesses health trends.

For more information, please contact:
In Ministry of Health: Vivian Nakaliika Serwanjja, Public Relations Officer, 0772979033, vivianserwanjja [at] gmail.com
In Gavi: James Fulker, Media Manager, 0794295505, jfulker [at] gavi.org
In UNICEF: Catherine Ntabadde Makumbi, Communication Specialist, UNICEF Uganda, +256 772 629567, +256 703 729567, cntabadde [at] unicef.org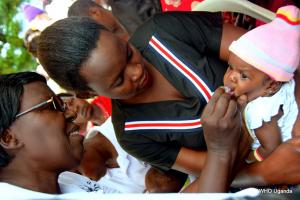 Click image to enlarge
For Additional Information or to Request Interviews, Please contact:
Public Information Officer
Tel. : +256 414 335569
Cell: +256 786 497073
Email: mwebembezie [at] who.int
Health Promotion Advisor
Tel. : +256 414 335505
Cell: +256 772 507906
Email: sensasib [at] who.int