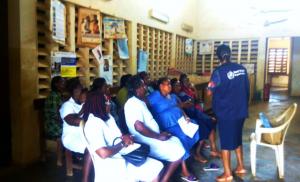 Government commends WHO for swift response to contain Lassa fever in Edo state
Benin, 20 February 2018 - As the Lassa fever outbreak continues in Edo, one of the three most affected states (others are Ondo and Ebonyi) in 2018; the Commissioner for Health Dr David Osifo, has applauded World Health Organization's (WHO) response to contain the outbreak.
Lassa fever is endemic in Nigeria with cases reported every year. Edo state in the South-south geopolitical zone of the country is recording unusually high numbers of Lassa fever cases. As at end of epidemiological week 7 in 2018, Edo reported 338 suspected cases out of which 85 were laboratory confirmed Lassa fever including 10 deaths compared to 77 suspected and 7 confirmed cases with 4 deaths for the same period in 2017.
As at 14 February 2018 Nigeria Center for Disease Control (NCDC) reported 615-suspected cases including 57 deaths from 17 states- (Edo, Ondo, Bauchi, Nasarawa, Ebonyi, Anambra, Benue, Kogi, Imo, Plateau, Lagos, Taraba, Delta, Osun, Rivers, FCT and Gombe).
"The progress made so far to respond to the Lassa outbreak, including identification and monitoring of contacts to facilitate early referral for treatment and, would not have been possible without the technical and logistics support of WHO", Dr Osifo said.
During the current Lassa fever outbreak in Edo state, NCDC requested WHO on behalf of the state, to coordinate contact tracing and active surveillance. WHO immediately established a system of contact tracing in all the 18 LGAs, established teams and reporting mechanisms. All the Disease surveillance and Notification Officers (DSNOs) in the local government areas (LGAs) have been trained on contact tracing and their capacity for providing guidance notes, prevention messages and counselling to contacts of Lassa fever patients has been enhanced.
Last week in Edo state, WHO donated Personal Protective Equipment, heavy duty gloves, facemasks, rubber boots, plastic waste bins, bio-hazard bags, drip stands, thermometers and others supplies to improve capacity for case management and infection prevention and control in the state.
"At the initial stage of the outbreak, a lot of people did not know the magnitude of the problem and so, awareness was a problem", Dr Osifo explained.
Continued vigilance to contain outbreak
With the outbreak, WHO deployed its personnel for active surveillance and continued to support the state government in early detection, prompt isolation of new Lassa fever cases as a pre-requisite for interrupting secondary transmission of Lassa fever virus in the community. This is even more so as outcome of illness is likely to be favorable when sick persons present early to health facilities for treatment.
"WHO is coordinating contact tracing, for rapid identification and follow-up of persons who may have been exposed to an infected person", Faith Ireye, WHO State Coordinator (SC) explained.
A menacing deadly disease.
Lassa fever is endemic in a number of countries in West Africa including Nigeria. People become infected with Lassa fever due to exposure to infected rodents (the multi-mammate rat) or from person to person due to exposure to the body fluids of persons sick with Lassa fever. Poor refuse disposal, poor personal hygiene (hand washing), exposure of food to rodents' urine and faeces as well as not cooking food thoroughly are some factors that expose people to the disease. In addition, health workers may become infected when they handle Lassa fever patients without adequate standard precaution and protective apparel.
Technical Contact:
Dr. Ifeanyi Okudo; Tel: +234 803 402 0833; Email: okudoi [at] who.int