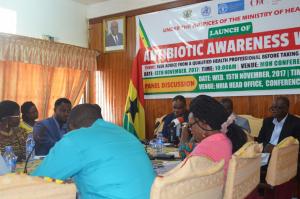 Ghanaians urged to seek advice from qualified health practitioners before taking antibiotics
Mr, Kingsley Aboagye Gyedu, the Deputy Minister of Health, has urged all Ghanaians to seek advice from qualified health practitioners before taking antibiotics. He emphasized that the threat of antimicrobial resistance (AMR) was ever increasing with serious implications on health indicators. He added that a major contributor to AMR was the misuse of antimicrobials; largely as a result of ignorance and irresponsible use by all actors. Mr Aboagye Gyedu therefore challenged all to make efforts at safe-guarding the effectiveness and also protect the few antimicrobials available for future generations.
Mr Aboagye Gyedu made these statements when delivering the keynote address at the launch of the Antibiotic Awareness Week on 13 November, 2017 at the Ministry of Health Conference Room in Accra under the theme "Seek advice from a qualified health professional before taking antibiotics".
Speaking at the launch, the WHO Country Representative, Dr Owen Kaluwa reiterated that antibiotics are in danger of losing their effectiveness due to over-prescribing and dispensing by health care professionals, misuse by patients such as not following the advice of healthcare professionals, overuse in farming and animal husbandry, poor infection control, and a lack of new antibiotics. He advised patients to only use antibiotics when prescribed by a certified healthcare professional, and never demand them if they are unnecessary.
"Healthcare practitioners should always follow good infection prevention and control practices, and only prescribe and dispense antibiotics when they are truly needed. They should inform patients on the appropriate use of antibiotics, and educate them on how to avoid common infections" he added.
.Dr Kaluwa mentioned that Ghana had made significant efforts with regards to AMR and was happy that the strategic plan has been completed and currently with Cabinet for approval. He therefore humbly appealed for the quick approval of the strategic plan and also for the needed resources to be provided for implementation.
Dr Bashiru Boi Kikimoto, head of public health at the Veterinary Services also indicated that misuse of antibiotics was a big challenge to the veterinary profession and that was the more reason why OIE had tasked all countries through the veterinary medical focal persons to gather data on antimicrobials in use in the various countries.
The Pharmaceutical Society of Ghana (PSGH) added its voice by calling on Ghanaians to desist from using non-prescribed antibiotics. The society disclosed that it was imperative that the public sought advice from a pharmacist or other qualified healthcare professional before taking medicines, especially antibiotics.