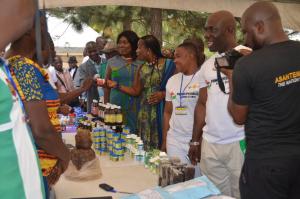 Ghana celebrates 16th African Traditonal Medicines Day
Ghana celebrated the 16th African Traditional Medicines Day on 31 August 2018 in Kumasi in the Ashanti Region of Ghana and under the theme "Local Manufacturing of Traditional Medicine Products in the African Region".
Present at the function were the Deputy Minister for Health, Madam Tina Gifty Mensah, Deputy Minister, Ashanti Region, Madam Elizabeth Agyeman, the head of department, Department of Herbal Medicine, School of Pharmacy, KNUST, Prof George Kuffour, WHO Country Representative, Dr Owen Laws Kaluwa, Director- Traditional and Alternate Medicines Directorate (TAMD), Ministry of Health, Dr Anastasia Yirenkyi, officials from Foods and Drug Authority (FDA), Centre for Plant Medicine Research (CPMR), Traditional leaders who represented the Asantehene, Otumfuo Osei Tutu II , Senior Lecturer from KNUST, Dr Kingsley Amponsah, members and executives of the Ghana Federation of Traditional Medicine (GHAFTRAM) among others.
In a welcome address, the Deputy Ashanti Regional Minister, Madam Elizabeth Agyeman mentioned that traditional medicinal products were an important source of health care for many Ghanaians with an estimated 80% of people being treated with these products and called for adherence to quality standards if Ghana wants to boost local manufacturing.
Delivering the keynote address, Honourable Tina Gifty Mensah indicated that there has been high patronage of traditional medicine in Ghana for many reasons including belief, trust proximity and cost among others. Thus traditional medicine was a national asset which also contributed immensely to achieving Universal Health Coverage (UHC). Madam Mensah added that this was a time for sober reflections on how far we have come as a nation in the development of traditional medicine.
The Deputy Minister added that in our attempt as a nation to develop traditional and alternate medicine we to collaborate and synchronize our energies as stakeholders. She suggested collaboration between pharmaceutical industries and traditional medicines industries. Madam Tina Mensah indicated that even though government had made great efforts to enhance traditional medicine in Ghana through policy guidelines to regulate practice and products, there were still challenges which needed to be surmounted, through the collaborate efforts of all relevant stakeholders.
Dr Anastasia Yirenkyi who made a presentation on the overview of traditional medicine in Ghana indicated that improvement in the quality of herbal medicines could be achieved by deliberate implementation of good agricultural practices at the point of cultivation of medicinal plants and good manufacturing practices during the process of manufacture and packaging of the finished products as well as post-marketing quality assurance surveillance. She also mentioned that whiles some medical products met the standard of quality, efficacy and safety by the Food and Drugs Authority, the quality of many others had been a matter of public concern. Dr Yirenkyi concluded that the world at large was turning to nature, therefore the increasing demand for herbal medicines for prophylaxis and the treatment of various diseases. She therefore called for collaborative efforts especially the manufacturing of herbal products to ensure that quality is not compromised.
Dr Owen Kaluwa in his remarks said that this year's theme highlighted the need to promote and enhance local manufacturing for better access to quality-assured medicines.
He added that scaling-up local manufacturing was key to contributing to achieving universal health coverage (UHC) and to achieving the Sustainable Development Goal 3 target 8, which included access to safe, effective, quality and affordable essential medicines for all. However, scaling up of local manufacturing would require stronger regulatory systems in countries; systems that are able to guard against low-quality medicines and at the same time ensure that locally manufactured traditional medicine products and raw plant materials meet international standards of quality, safety and efficacy.
Dr Kaluwa said that in the Africa Region, considerable progress had been made in that since the year 2000, forty (40) countries had developed national traditional medicines policies. Again, seventeen countries were manufacturing traditional medicine products from locally-cultivated medicinal plants; while fourteen (14) allowed marketing of some traditional medicine products to treat priority communicable and non-communicable diseases.
"As WHO in the Africa Region, we congratulate those countries, including Ghana, which are already manufacturing traditional medicine products locally, and also congratulate all partners who are supporting this goal", he said.
Dr Kaluwa concluded that much more still needed to be done to improve access to quality traditional medicine products in many countries in the African Region, and we should all continue to work towards addressing this situation.
Dr Isaac Kingsley Amponsah, a senior lecturer at the Department of Herbal Medicine, School of Pharmacy, KNUST, in a brief statement urged the government to protect the health of the citizens by strengthening the regulatory agency to assure the quality, safety and efficacy of herbal medicinal products in the country. He also called upon researchers to work in collaboration with traditional health practitioners to produce scientific evidence on the safety, efficacy and quality of traditional medicine products.
The Chairperson for the function, Prof George Kuffour in his closing congratulated traditional medical practitioners for their tremendous contribution to the healthcare system in Ghana. He urged them to corporate with the Foods and Drug Authority by adhering to regulations and guidelines governing their practice and products.
There were also solidarity messages delivered by Traditional leaders, representatives from the Centre for Research into Plant Medicine among others. The day was celebrated with an exhibition mounted to display traditional medicine products amidst singing drumming and dancing.