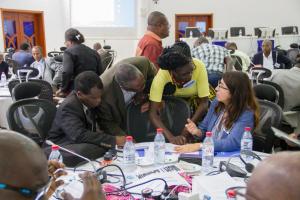 Experts ramp up efforts to leave no one behind
Brazzaville, 24 November 2017 - With growing momentum to ensure that everyone has access to good quality health, planning experts from 27 countries of the Region met in Brazzaville to agree on how to implement a Framework of Action adopted by African Ministers of Health at their annual meeting in August 2017.
The Framework presents a holistic approach to strengthening health systems to improve people's health. It sets out a menu of options that countries can consider based on their specific needs as they strive to attain the sustainable development goals (SDGs) to leave no one behind.
"The Sustainable Development Goals (SDGs) presents us with a unique opportunity for a paradigm shift in strengthening health systems across all areas focusing on integrated people centered service delivery," said Dr Delanyo Dovlo, Director of the Health Systems Strengthening and Services Cluster.
"As African countries prioritise universal health coverage in their health development agenda, countries need to take ownership of identifying their needs and implement the right interventions to build health systems that will achieve better outcomes and ultimately contribute to the attainment of the SDGs," he added.
The African Region has witnessed significant improvements in population health outcomes over the past two decades. However, these gains which still fall short of global and regional targets, are not uniform across or within countries and are not always sustainable. The Region is also faced with major demographic, economic, epidemiologic, and socio-cultural transitions as well as health security and environmental threats which place great demands on health systems.
The framework, endorsed by Ministers of Health is rooted in an integrated approach to systems strengthening, with a focus on communities and districts. It also provides an approach to making investments in health system strengthening.
Participants reviewed the methods and tools to be used to monitor the implementation of the framework. They also agreed on the technical support needed by counties and partners from WHO. It is expected that the implementation of the framework will provide a common a approach for scheduling investments and monitoring operational as well as overall progress in the Region.
The 3-day meeting is attended by Directors of Planning and other participants from 27 countries in the African region.
For more information, please contact
Maureen Nkandu,
Regional Communications Manager
WHO Africa Regional Office
M: +242 065117981
Tel: +47 24139982
Email: nkandum [at] who.int