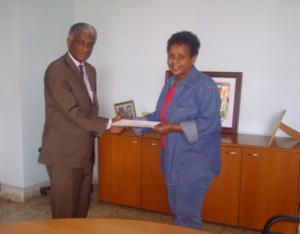 Eritrea has heen certified free of dracunculiasis transmission
Eritrea has been officially certified free of Dracunculiasis transmission.
This was officiated with a Letter of Certification from the WHO Director General, Dr Margaret Chan, which was delivered by Dr Idrissa Sow, WHO Representative in Eritrea, to Ms Amina Nurhusien, the Minister of Health in December 2011.
Eritrea is among the nine countries certified by the International Commission for the Certification of Dracunculiasis Eradication (ICCDE) in 2011. In the African region, three countries namely Burkina Faso, Eritrea and Togo were certified dracunculiasis free.
Eritrea will continue to conduct post certification surveillance that will be maintained until global eradication of Dracunculiasis is achieved.
The disease was not seen in Eritrea since 1969.