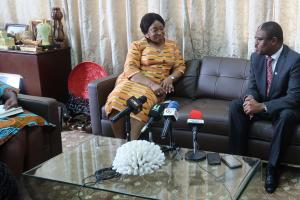 Dr Owen Kaluwa, WHO Country Representative bids farewell to the Government and People of Ghana
Dr Owen Laws Kaluwa, has bid farewell to the Government and the People of Ghana after four years of meritorious service as Country Representative for the World Health Organization in Ghana. He paid a courtesy call on the Honourable Minister of Foreign Affairs, Honourable Shirley Ayorkor Botchwey to inform her of his end of service in Ghana.
In a brief remark, the Honourable Minister indicated that the Government appreciates WHO's support to the health sector and especially during emergencies as well as the Malaria Vaccine Implementation Project in Ghana. She reiterated Government's priority for health care delivery to every Ghanaian and in this direction, interventions such as drone's services to deliver emergency medicines and supplies, distribution of ambulances to health facilities throughout the country and improvements in the NHIS to mention a few are interventions being rolled out to ensure quality health services in Ghana.
Honourable Shirley Ayorkor Botchwey said she was aware of the great impact WHO had made on the Health Sector and was hopeful this support would continue.
In his response, Dr Kaluwa said it was a pleasure and an honour to have met with her and emphasized the good collaboration WHO had enjoyed with Government and other Development Partners. Dr Kaluwa also mentioned that even though time had gone so fast, he was glad to see a lot of development in the area of health.
He said Ghana had a strong surveillance system for which the Government must be commended and should strive to do better and work to strengthen preparedness and response to Public Health Emergencies. He said Ghana has also made tremendous efforts in ensuring Universal Health Coverage and is way ahead in terms of having a system that prevents people from paying out of pocket to access health care.
"Everyone has a right to good quality health services without any financial restrictions. Universal Health Coverage (UHC) is an important initiative and Ghana should work even harder towards achieving that", he reiterated.
Dr Kaluwa also said that cross-sectoral collaboration was needed for Ghana to achieve SDG 3 and other health related SDGs. He mentioned that again, cross-sectoral collaboration was very critical in addressing social, economic and environmental determinants of health as a lot of these determinants lie outside the health sector and therefore embracing an all-government approach in achieving UHC was the way to go. He said bringing in the Private Sector to contribute to the health sector was very critical and Government needs to pursue that agenda seriously. He said he was particularly happy that the Ministry of Health recently had developed a roadmap for achieving UHC and was confident that as this roadmap is implemented, Ghana was sure to achieve UHC in the very near future.
Finally, Dr Kaluwa thanked the Government and people of Ghana for their immense support to the work of WHO in the country. He appealed to all Ghanaians to take issues about their health seriously and adopt healthy lifestyles.
"Ensuring good health requires everybody to put in concerted efforts." He concluded.
Dr Kaluwa assured the Honourable Minister of his readiness to support Ghana in any capacity when the need arose.
Honourable Shirley Ayokor Botchway thanked him for the role he had played in all these achievements in the health sector and wished him the very best in his new duty station. She said she was hopeful that the WHO collaboration will continue to improve health delivery and health care in Ghana
The WHO Ghana Staff Association (WHOSA) organized a send off reception for Dr Kaluwa. There was participation by WCO staff, representatives from the Ghana Health Service, Ministry of Health, UN Agencies, Health Sector Working Group, Development Partners and the acting UN Resident Coordinator. Speakers at the function commended Dr Kaluwa for commitment, dedication and passion towards the improvement and strengthening of the health sector in Ghana.

Later in the week, the Ministry of Health also organized a send- off dinner in honour of Dr Kaluwa. Speaking at the event the Honourable Minister of Health, Mr Kwaku Agyeman-Manu appreciated the good work Dr Kaluwa had done in the health sector. He mentioned that Dr Kaluwa facilitated the creation of a WHO Desk at the Ministry which has really fostered good collaboration between the two Organizations; especially for providing the linkage between the AFRO Regional Director and the Ministry of Health.
Mr Kwaku Agyeman-Manu expressed gratitude of the President of the Republic of Ghana to him for his direction and guidance on health issues. He wished him well in his new position.
There were fraternal messages from the Deputy Director General of the Ghana Health Service, Dr Ofosu and some Directors of the Ministry of Health.
The Honourable Minister, presented gifts to Dr and Mrs Kaluwa on behalf of the Ministry of Health.
Dr Kaluwa thanked the Minister and the people of Ghana for having received him and his family to Ghana and tremendously supported him in performing his duties as the WHO Country Representative. He was very optimistic that the Ministry will continue to collaborate and support the incoming Country Representative.

---------------------------------------------------------------------------------------------------------------------
• Dr Owen Laws Kaluwa assumed office as the WHO Country Representative for Ghana on 29 October 2015 at a critical moment when Ghana was faced with a Meningitis Outbreak in the 3 Northern Regions. He immediately mobilized resources in terms WHO Technical Experts from AFRO and HQ, financial and logistics to support the outbreak response
• He was instrumental in efforts at strengthening Ghana's Health Security Agenda. He served as the Co- Chair for the National Technical Coordinating Committee (NTCC) for Public Health Emergencies.
• He undertook a countrywide visit to gain a better understanding of the Ghana healthcare delivery system at the lower levels which endeared you to the staff you encountered
• He helped to consolidate the good working relationship with the Ministry of Health and its agencies including the Ghana Health Service and maintained WHO's leadership in health
• He was instrumental in the Country Coordinating Mechanism efforts to reprogram Global Funds for effective HIV, TB and Malaria control interventions
• He ensured adequate support for the implementation of the Malaria Vaccine Initiative programme (MVIP) Ghana as one of the pilot countries in Africa.
• He provided support for the development of the Polio Transition Plan and successful response for the recent polio outbreak and response to contain various epidemics in the country within a short time period
• He led in-country resource mobilization efforts to support mental health activities and indeed all programs like the Maternal, Child health and Nutrition benefited from his leadership
• He ensured that all Programmes had adequate resources for the technical officers to provide the needed technical support to their respective health programmes and interventions