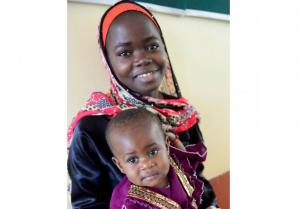 A Call to Close the Immunization Gap
Brazzaville, 26 April 2016 – The sixth African Vaccination Week (AVW) has been launched in Ganta, Nimba County of Liberia, on 25 April 2016 in the presence of high level officials and respected community leaders. The AVW is commemorated by Liberia and the rest of the countries in the African Region during the week of 24–30 April 2016 with the theme, "Close the Immunization Gap. Stay Polio Free."
This year's theme draws attention to the need to attain universal immunization coverage in Africa, while celebrating the important polio eradication milestone that has been reached. It calls on countries, governments, communities, families and individuals to take action to close the immunization gap and ensure that every child, woman and man gets vaccinated against vaccine-preventable diseases. In 2014, only 18 African countries had achieved 90% coverage, and to date one in five children in Africa do not receive all the basic vaccines they need.
Close the Immunization Gap. Stay Polio Free, the theme for this year's AVW campaign, also calls on governments to plan for and finance immunization activities, for communities to encourage each other to get immunized, and families and individuals to actively seek vaccination services for themselves and their children. It also signals a reminder that countries need to remain vigilant to ensure they stay polio free, while they transition the huge polio assets acquired over the past couple of decades to further strengthen their routine immunization and other child survival programs.
"As we commemorate the sixth edition of the African Vaccination Week, I call on all countries and partners to sustain and strengthen the gains made in immunization coverage," said Dr Matshidiso Moeti, WHO Regional Director for Africa, "We have come a long way, but we are not yet where we need to be – countries need to act on the commitments made to close the immunization gap at the Addis Ababa Ministerial Conference on Immunization earlier this year."
This year's AVW coincides with the switch from the use of trivalent oral polio vaccine (tOPV) to bivalent oral polio vaccines (bOPV) in the routine immunization schedules of countries in the Region as agreed by health ministers worldwide during the 68th World Health Assembly in 2015. The switch follows the global eradication of wild poliovirus type 2 as declared by the Global Commission for Certification of Poliovirus Eradication in September 2015.

"Since the inception of the annual African Vaccination Week in 2010, community awareness has greatly strengthened around immunization, all of which has led to an increased uptake of services," said UNICEF's Regional Director for Eastern and Southern Africa, Leila Gharagozloo-Pakkala. "However, there is more to be done for children. If countries can continue to leverage on community engagement and harness local resources, then we will see increased access and utilization of routine immunization services by children, especially among under-served and marginalized populations."

As host of the regional launching event, Liberia will commemorate the week with joint launches of the Rotavirus vaccine into its routine immunization schedule and the Human Papilloma Virus (HPV) vaccine among 10 year old girls, in addition to other activities.

WHO, UNICEF and other immunization partners will continue to work with countries to close the immunization gap and stay polio free, while making sure that every child receives all available life-saving vaccines.

This year's commemoration is the sixth of its kind, when countries in the African Region join the rest of the world in commemorating World Immunization Week. The event, which takes place in the last week of April, promotes the use of vaccines to protect people of all ages against disease. Immunization saves millions of lives and is widely recognized as one of the world's most successful and cost-effective health interventions.
_____________________________________________
For more information, please contact:
Dr Richard Mihigo, Programme Area Coordinator, WHO AFRO mihigor [at] who.int Tel +47 241 39926
Loza Mesfin Tesfaye, Communications Officer, WHO AFRO tesfayel [at] who.int Tel +47 241 39779
C. Boakye-Agyemang, Regional Communications Adviser, WHO AFRO Boakyeagyemangc [at] who.int Tel +47 241 39420
James Elder, Regional Chief of Communication, UNICEF ESARO jelder [at] unicef.org Tel: +254 71558 12
Thierry Delvigne-Jean, Regional Chief of Communication, UNICEF WCARO tdelvignejean [at] unicef.org Tel: +221 33 831 0200
African Vaccination Week website
_____________________________________________
Regional launch of African Vaccination Week 2016 in pictures

01 African Vaccination Week parade in Liberia

02 Dr Alex Gasasira delivering the RDs African Vaccination Week message

03 Dr Francis Kateh Deputy Minister MOH and CMO delivering the Minister's speech