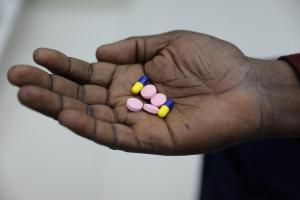 In Burkina Faso, the "threat not perceived by communities" of antimicrobial resistance
Ouagadougou – In Burkina Faso, the Observatory for Quality and Safety of Care, a non-governmental organisation, has set itself the objective of monitoring threats to safety of care, including the problem of antimicrobial resistance (AMR). Through its approaches based on advocacy, communication and awareness, the organisation tries to stimulate the consciousness of decision makers and communities. Dr Zakaria Gansane, epidemiologist and President of the Observatory, tells us why AMR is a serious public health problem.
What are the main factors contributing to antimicrobial resistance in Burkina Faso?
This is a natural phenomenon with microbes being susceptible to developing this resistance during their life. However, certain factors may accelerate this process. The irrational or excessive use of antimicrobials are the main factors in the human and animal health sectors.
In the farming sector, antibiotics are used as growth factors. For those in this sector, antibiotics help to optimise economic profitability. Therefore, there is widespread use of antibiotics which is a delicate issue in the context of this fight.
In addition to these major factors, there are cofactors that play a significant role in the emergence and spread of this resistance. As an example, when it comes to health systems, we can mention the poor quality of the "water, hygiene and sanitation" services in the hospital environment. This encourages the spread of multidrug-resistant germs in the hospital environment and their transmission to patients. This may result in the costly use of antibiotics because multidrug-resistant germs are more difficult to treat. There is also the issue of the illegal sale of antibiotics on the street or in pharmacies.
Resistance cofactors include the problem of antibiotic residues being present in food and even in the environment. These foods containing antibiotic residues may be further consumed by populations (humans and animals). This situation exposes the commensal bacteria in these organisms to these antibiotic residues and may encourage the emergence of this resistance.
What is the Observatory doing to tackle this public health problem?
AMR is a global threat which contributes substantially to significant mortality and disastrous economic consequences. In short, AMR is a threat not perceived by communities, partly because we don't have sufficient data and communication on the issue is still lacking. Therefore, we are working to help with the collection of information. This is very important as advocacy, communication and awareness must be supported by compelling facts.
As a representative of civil society, we have also been involved in developing and adopting the legal framework for the establishment of the National AMR Technical Committee, and we have also led several discussions on the matter.
In 2019, together with the strategic partners in the fight, such as the WHO, the FAO, the National AMR Reference Laboratory, we held the World Antibiotic Awareness Week to make national authorities and the public aware of the problem of AMR. We provide continuous digital communication on the matter through our social networks which can reach more than 50,000 people.
Finally, we are trying to make sure that the AMR debate is not exclusively for experts. This debate must be considered in the context of health democracy. We need to make sure that communities make this issue their own, in the same vein as HIV, malaria, etc.
What are your biggest successes?
We have had success at several levels. As contributors to civil society, we have forged strategic partnerships with national and international organisations working on the problem of AMR directly. This allows us to share the vision of civil society on the issue to better focus the fight.
In partnership with other State structures, we have been able to participate in the preparation of numerous normative documents in line with related sectors, such as the WASH in healthcare establishments.
In addition, in 2018, we carried out a study on infections associated with care at three hospitals and this allowed us to foresee the consequences of AMR in Burkino Faso, specifically the issue of multidrug-resistant infections. Something we are happy about is the existence of our social media platform through which we provide continuous digital communication on the issue of AMR.
Finally, we are trying to organise the fight among civil society in Burkina Faso. A group of journalism and communication specialists have been identified for this purpose. We have also connected with voluntary organisations involved in animal health and the environment. It is essential that these organisations join the fight. These organisations will soon benefit from a capacity building programme so they are better equipped in terms of AMR. Ultimately, along with these organisations, we want to define the national intervention framework of civil society organisations against AMR. In partnership with government organisations, this will allow us to create a more dynamic framework to fight against this scourge.