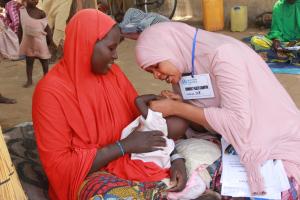 Borno targets 1 million internally displaced persons with house-to-house lifesaving messages 
Maiduguri, 25 May 2018 - "Why didn't you educate us before cholera hit us last year?" asked Hauwa Bulama, an internally displaced person (IDP) at Muna garage of Maiduguri, Borno state where an outbreak of cholera affected thousands of people in 2017.
"My mother could have survived if we only knew what we now know, or knew the immediate steps to take in the event of someone having diarrhea in the household, including how to prepare the salt-sugar solution. Nevertheless, thank you for this critical education which will help us to prevent not only cholera but also meningitis, Lassa and yellow fever," Hauwa said.
Hauwa Bulama is one of the recipients of risk communication intervention spearheaded by World Health Organization (WHO) in an unprecedented move to support health authorities to deliver house-to-house lifesaving health messages and reduce mortality and morbidity due to seasonal disease outbreaks among populations affected by insurgency in Borno, North-east Nigeria.
Risk communication is the real-time exchange of information, advice and opinions between experts, officials and people who face a threat to their wellbeing to empower them to make decisions to better their lives. For that purpose, WHO trained and engaged 150 community health champions drawn from the National Orientation Agency (NOA) and National Youth Service Corps (NYSC) to conduct focused household discussions (FHD) on preventive behaviours for priority diseases including cholera, Lassa fever, meningitis and measles. Others include yellow fever, polio and hepatitis.

"This initiative is indeed useful and timely," said Dr Haruna Mshelia, Commissioner for Health, Borno state. "With the technical support of WHO, we are prepositioning lifesaving messages in the same manner we preposition vaccines ahead of anticipated disease outbreaks. This way, we hope to empower the people to adopt healthy household practices that can indeed reduce morbidity and mortalities during outbreaks."
In 2017 alone, WHO and partners supported Borno state to conduct mass vaccination campaigns against outbreaks of cholera, polio and measles.
The provision of critical health information is part of WHO's comprehensive strategy for improving health behavioral self-efficacy among populations affected by the humanitarian emergencies in north-east Nigeria.
"With hindsight of disease outbreaks among vulnerable people especially IDPs, WHO is well positioned to support Borno state health authorities in delivering real-time lifesaving messages ahead of anticipated outbreaks with a view to empowering populations at risk to make informed and positive choices about promoting their health" Dr Ayana Dereje of WHO Emergency Programmes said.

Also, WHO is applying a combination of approaches to ensure the availability of basic health services targeted at preventing and treating common illnesses by its hard-to-reach teams as well as home-based treatment of minor ailments for children under the age of 5 by community oriented resource persons (COPPS) among others.
---
Technical Contact:
Dr PETER LASUBA, Clement Lugala, Email: clementp [at] who.int