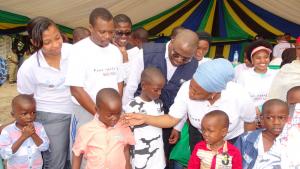 Be smart, Know about Sickle Cell Disease!
23 June 2018, Dar es Salaam: The Acting World Health Representative for Tanzania, Dr Adiele Onyeze joined the Minister for Health, Honourable Ummy Mwalimu, partners and the public to commemorate World Sickle Cell Day in Tanzania. The event was graced by a 3km charity walk in Mwenye Yanga Temeke Grounds under the theme "Kuwa Mjanja ijue Siko Seli" meaning "Be smart, Know Sickle Cell".
Sickle Cell Disease (SCD) belongs to a group of inherited red blood cell disorders. It happens when a child receives two sickle cell genes—one from each parent. The red blood cells become hard and sticky and look like a C-shaped farm tool called a "sickle". SCD affects millions of people throughout the world. Approximately 300,000 children are born with SCD worldwide, each year. With inadequate diagnostic facilities, support and proper treatment, 50-90% of children may die from the disease in their childhood. SCD contributes to 6.4% of under-five mortality in Africa. Tanzania is the fourth country in the world with the highest birth prevalence of SCD individuals after Nigeria, the Democratic Republic of Congo and India. The figure is at 6 per 1,000 per annum which is approximately 8,000 - 11,000 infants in a year. The East Coast, Southern and Lake regions are more affected.
More than 150 people attended the World Sickle Cell Day commemorations. Introductory remarks were given by the Regional NCD Coordinator for Dar-es-salaam, Dr Digna Riwa and Dr Soka, the CEO for SCD Umbrella Organisation for Tanzania. The two thanked the Minister for Health and partners for supporting SCD control in Tanzania. They acknowledged integration of SCD interventions into the National NCD Strategy and, incorporation of essential medicines (hydroxyurea, Pen V and oral morphine) for SC patients, into the essential medicines list.
Some challenges were reported and presented to the Minister for health. These included access and affordability for SCD services. Some patients are not capable of enrolling in Health Insurance schemes while others also lack fare to and back from the designated Sickle cell clinics. Misconceptions regarding the survival of SCD patients and control are also noted. The NCD Coordinator informed the Minister that the region referral hospitals have already established NCD clinics and will soon begin providing services to SCD patients.
In his remarks, the WHO Representative for Tanzania shared the recommended guidelines for the establishment of SCD interventions in countries. He said, countries with annual SCD infant birth rate of above 0.5 per 1,000 are required to establish national programmes for the management and prevention of SCD. In this case, Tanzania having an infant birth rate of 6 per 1,000 per year, (the top four in the world) would benefit having a national programme. He therefore congratulated the Minister for Health and the GOT for recognising SCD a condition of public health importance and that actions are being undertaken to address this burden. The WR referred to the 59th World Health Assembly resolution on SCD; which requested national programmes be tailored to specific socio-economic, health system and cultural contexts for reduced incidence, morbidity and mortality. In his concluding remarks he said, it is possible for SCD patients to live healthy and normal lives. The comprehensive SCD care set introduced in high-income countries has managed to reduce childhood mortality by 70%, and so, Tanzania can as well. The WR assured the Minister on WHO's continued commitment to supporting SCD and other NCDs in Tanzania and that the organisation will continue to develop normative tools, including guidelines and action plans to strengthen medical care and services for all conditions including SCD.
The Guest of Honour, Honourable Ummy Mwalimu began her speech by thanking all players supporting SCD interventions in Tanzania. She specifically acknowledged efforts by the experts, Professor Makani and others who have pioneered a model for comprehensive SCD services and research in Tanzania. She said SCD mortality has now dropped to 30%. The Minister was very much encouraged to see happy and healthy SCD patients and college groups who have committed their lives to raise awareness on SCD in schools and communities. She acknowledged having learnt a lot from the testimonies shared during the commemoration.
Sharing on the progress, the Minister said SCD interventions are now part and parcel of the National Strategy for the Prevention and Control of Non-Communicable Diseases. SCD medicines are integral to the updated Essential Medicines List and the National Standard Treatment Guidelines of the MOHCDGEC. The Ministry is working to strengthen SCD comprehensive care programs at all levels. At the moment a consolidated range of services including definitive diagnosis is provided at the Muhimbili National Hospital (MNH). Specialized services are available in referral and regional referral hospitals in 7 regions. Efforts are ongoing to have improved SCD services in all primary health care facilities with a large number of SCD patients.
In her concluding remarks, the Minister urged all SCD patients to enrol in Health insurance schemes for better and cheaper services. She requested all regional and districts hospitals to allocate budget for instituting definitive SCD diagnostic facilities and ensure rapid SCD test kits are available in primary health care facilities. She directed hospitals to set days for SCD clinics at least once in a week, and have in place the recommended medicines and safe blood as needed. She said the Ministry is instituting sustainable strategies to ensure blood donation services are improved.
The event was attended by SCD patients and parents, NGOs supporting SCD, the SCD Umbrella Organisation for Tanzania, The Programme for Sickle Cell Muhimbili National Hospital, officials from the National, Regional and District Health Management Teams including NCD Coordinators, Medical Association of Tanzania, The Tanzania NCD Alliance, District Commissioner for Temeke, WHO, donors and other partners.