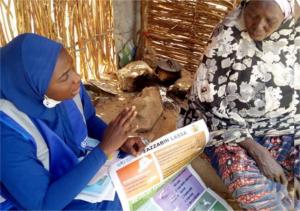 Affected States in the Northeast intensify efforts to curtail Lassa fever 
Bauchi, 31 January 2020 - "We remain grateful to World Health Organization and State authorities, for empowering our people with information on the Lassa fever disease. In the past, we didn't use to seek immediate medical help but managed cases at home, relying on traditional treatment."
"All that has changed now, we have become aware of the causes of the disease and steps we must take as a community. Now we have fewer cases in our state and can proudly say no one has died from the disease since the sensitization took place", says Mallam Abdullahi, one of the community leaders in Liman Katagum Local Government Area (LGA) of Bauchi State speaking on the impact of the sensitizations done by WHO and Local Government Health authorities to raise public awareness on the dangers of the Lassa Fever disease and required behavioural changes to prevent the disease.
Lassa fever is an acute viral haemorrhagic illness of 2-21 days incubation period that occurs in West Africa including Nigeria. The Lassa virus is transmitted to humans via contact with food or household items contaminated with a specific rodent (multimamate) urine or faeces. Person-to-person infections and laboratory transmission can also occur by body fluid contacts, particularly in hospitals lacking adequate infection prevention and control measures
Outbreak response
Declaring the outbreak in Borno State last week, Dr Salisu Aliyu Kwaya-bura, the Commissioner for Health explained that the index case, a 24-year-old man from Garba Buzu area of Bolori-1, died, while other suspected cases are under observation and treatment at the University of Maiduguri Teaching Hospital (UMTH) waiting for results of laboratory tests carried out.
Similarly, since 01 January 2020, Bauchi State has reported a total of 16 suspected cases from Alkaleri, Bauchi, Ganjuwa and Tafawa Balewa LGAs out of which, four from Bauchi and Ganjuwa LGAs, are laboratory confirmed.
Technical support to States
Bauchi State authority has expressed satisfaction with the quality of technical support the WHO is providing to curtail the Lassa fever outbreak in the state. Speaking through a representative, the Executive Chairman of the Bauchi State Primary Healthcare Development Agency (BSPHCDA), Dr Rilwanu Mohammed ascribed the timely detection and reporting of cases to the technical support provided by WHO officers and local authorities are providing in the state.
According to the State Coordinator in Bauchi, Dr Adamu Ibrahim, "WHO is supporting the general coordination of stakeholders and the emergency response committee meetings which has resulted in better planning and tracking of planned activities, transportation of specimen especially during weekends, prepositioning of drugs as well as improved isolation camp management."
To further contribute to curbing the menace of Lassa fever in Bauchi State, WHO has produced 500 copies of the Lassa fever standard guidelines and 3000 copies of case definitions in both Hausa and English languages. The guidelines and case definitions were distributed to Disease Surveillance and Notification Officers (DSNOs), health facilities and community informants for improved case detection, reporting and management.
Just like Bauchi, in Borno State, the health authorities supported by WHO have activated an isolation center in Abba Kyari Memorial Hospital, in Bolori-1 ward. The WHO emergency humanitarian health team in the state has also commenced training on clinical case management, contact tracing and public awareness.
In addition, WHO has provided Borno State Ministry of Health with personal protective equipment including gloves, boots, goggles and masks, decontamination supplies, infrared thermometers as well as medical and laboratory supplies.
---