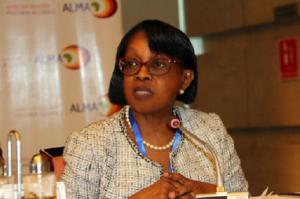 The 30th Ordinary Session of the Assembly of the African Union kicked off in Addis Ababa
Addis Ababa, 28 January 2018 - Dr Matshidiso Moeti, WHO Regional Director (RD) for Africa participated in the official opening ceremony of the annual AU summit which kicked off.
Dr Moeti also took part in a working lunch of the African Leaders Malaria Alliance (ALMA) and delivered a statement to acknowledge countries which have made great strides in controlling malaria and NTDs. She commended ALMA saying "ALMA is a platform which allows countries to share best practices, and is a great model for encouraging countries to lead action by formulating evidence-based policies and executing strategies within their own country contexts." Dr Moeti said that "Elimination of malaria and NTDs requires - above all - political leadership, from the highest level, to leadership of programmes, resource mobilization, and intersectoral and cross-border collaboration".
His Excellence Dr. Barnabes Sibusiso Dlamini, Prime Minister of the kingdom of Swaziland, officially opened the session representing His Majesty King Mswati III of the kingdom of Swaziland and Chair of ALMA. ALMA was launched in 2009 at the 64th session of the United Nations General Assembly as an initiative of heads of state and government, working across country and regional boarders to eliminate malaria from the continent by 2030.
During the session, six countries received the ALMA award for their achievements in the fight against malaria. Algeria and Comoros for being on track to reach the 2020 global malaria milestone; while Madagascar, Senegal, The Gambia and Zimbabwe for having a decrease of more than 20% malaria cases and malaria related deaths in the period 2015-2016.
Dr Moeti also attended the closing ceremony of the summit yesterday, the 29th, January 2018.