High-level side event at the 36th Ordinary Session of the au assembly of Heads of State and Government
---
The COVID-19 pandemic has caused deepfelt devastation to lives and livelihoods. Health systems have come under enormous pressure and essential health services extensively disrupted. Routine childhood immunization was among the key services that suffered huge interruptions, resulting in outbreaks of vaccine-preventable diseases.
In 2021, the world saw the worst continued decline in routine immunization in 30 years. Within the African continent this has led to increasing outbreaks of vaccine preventable diseases. For example, 18 countries in the African region have reported a measles outbreak in 2022, including 5 out of the 9 priority countries. New polio cases have not only re-emerged in African countries2 that had not experienced the virus in decades but has also crossed borders to the United Kingdom, the United States and Israel; sending a message that neglecting routine immunization puts children and communities everywhere at risk of epidemics of vaccine-preventable diseases.
As countries progressively restore essential services, it is critical to not only revamp the services to pre-pandemic levels, but to speed up the progress towards the 2030 global Immunization Agenda of ensuring that everyone, everywhere, at every age fully benefits from vaccines to improve health and well-being.
OBJECTIVES OF THE SIDE EVENT
---
The 90-minute side event will convene Heads of State on the margins of the AU Summit in February 2023 and aims to culminate in a signed declaration of commitment by Heads of State to close the gap on immunization in Africa as well as fast-track implementation of the Immunization Agenda 2030 approaches aimed at reducing child mortality, morbidity and disability. The side event plans to achieve the following objectives:
To reignite the political will of Africa's leaders to keep universal access to immunization at the forefront of national recovery efforts to achieve long-term health, economic and development goals.
To renew political commitment to supporting investments in strengthening surveillance to detect outbreaks quickly, respond with urgency, and immunize all children who are not yet protected from vaccine-preventable diseases in Africa.
To motivate urgent integration of polio functions, assets, innovations and lessons to accelerate last-mile polio eradication action and boost routine immunization capacities on the continent
AFRICAN UNION HEADS OF STATE AND GOVERNMENT DECLARATION (DRAFT)
---
Download the document:
For feedback on the draft declaration, please contact mulundat@who.int.
H.E. DR JULIUS MAADA BIO
The President of The Republic of Sierra Leone
DR MATSHIDISO MOETI
Regional Director for Africa, ​​​​​​​World Health Organization
H.E. AMB. CESSOUMA SAMATE
AU Commissioner for Health, Humanitarian Affairs and Social Development African Union
---
HON. DR JANE RUTH ACENG OCERO
Minister of Health Republic of Uganda
HON. DR HUSSEIN
Minister of Health, Federal Republic of Somalia
CHRISTOPHER ELIAS
President, Global Development, Bill & Melinda Gates Foundation
DR FÉLICITÉ TCHIBINDAT
Deputy Regional Director UNICEF West & Central Africa
---
Moderator: Minister of Health of the Republic of Sierra Leone, Honorable Dr Austin Demby
12:00 - 12:05 pm

Welcome remarks
Honorable Dr Austin Demby

12:05 - 12:10 pm

Opening Statement by the Head of State of the Republic of Sierra Leone
His Excellency Dr Julius Maada Bio

12:10 - 12:15 pm

Statement from the African Union Commission Chairperson
H.E. Moussa Faki Mahamat

12:15 - 12:20 pm

Statement of the WHO Regional Director for Africa
Dr. Matshidiso Moeti

12:20 - 12:25 pm

Remarks by the AUC Commissioner for Health, Humanitarian Affairs and Social Development
Her Excellency Amb. Cessouma Minata Samate

12:25 - 12:28 pm

Video Message from WHO Regional Director for Eastern Mediterranean
Dr Ahmed Al-Mandhari

12:28 - 12:30pm

Video Message from the CEO of Gavi, The Vaccine Alliance
Dr Seth Berkley

12:30 - 12:50 pm

Panel Discussion on the State of immunization and the immunization 'Catch- Up' Plan for Africa toward SDG2030 and Agenda 2063

Panelists

Dr Chris Elias
President, Global Development Program – Gates Foundation
Dr Seth Berkley
CEO, GAVI, The Vaccine Alliance
Honorable Dr Jane Ruth Aceng Ocero
Minister of Health, Republic of Uganda
Honourable Dr Maryam Mohamed Hussein
Minister of Health, Federal Republic of Somalia
Dr Felicite Tchibindat
UNICEF Deputy Regional Director for West & Central Africa

12:50 - 13:10 pm

Comments from the Excellencies Heads of State and Government

13:10 - 13:20 pm

Presentation and Adoption of the draft declaration on Immunization Recovery to 2030
His Excellency Dr Julius Maada Bio

13:20 - 13:25 pm

Closing remarks and Vote of Thanks
Embassy of the Republic of Sierra Leone to the Federal Republic of Ethiopia and Permanent Mission to the AU and UNECA
His Excellency Ambassador Adekunle King

13:25 - 13:30 pm

Group Photo
---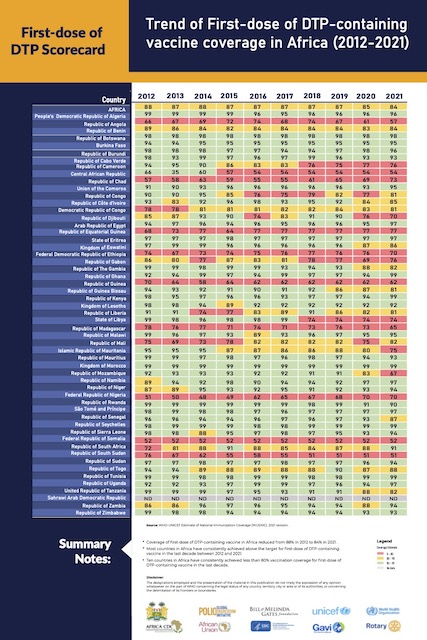 Trend of First-dose of DTP-containing vaccine coverage in Africa (2012-2021)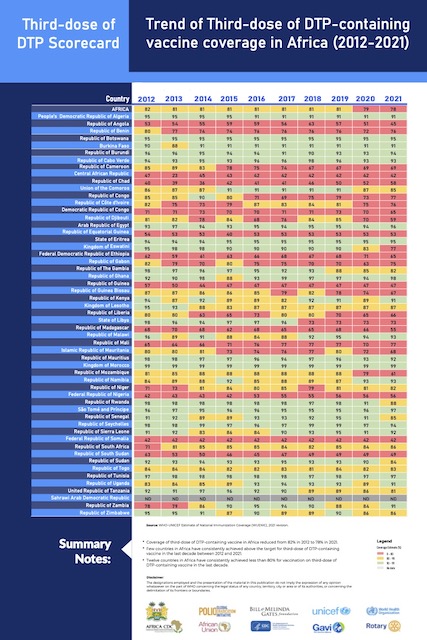 Trend of Third-dose of DTP-containing vaccine coverage in Africa (2012-2021)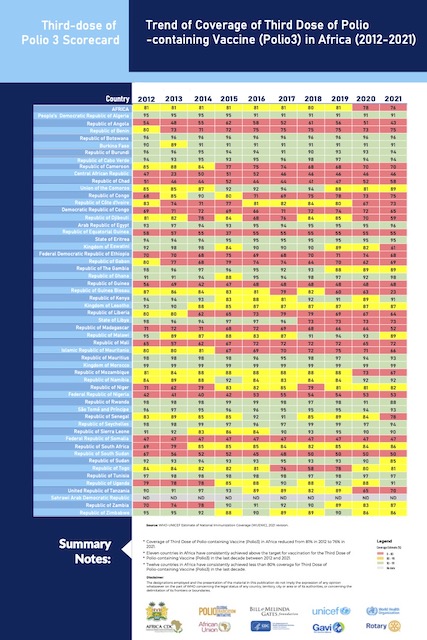 Trend of Coverage of Third Dose of Polio-containing Vaccine (Polio3) in Africa (2012-2021)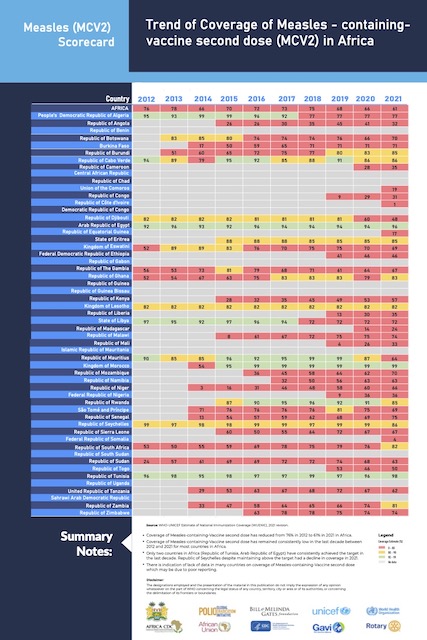 Trend of Coverage of Measles -containing - vaccine second dose (MCV2) in Africa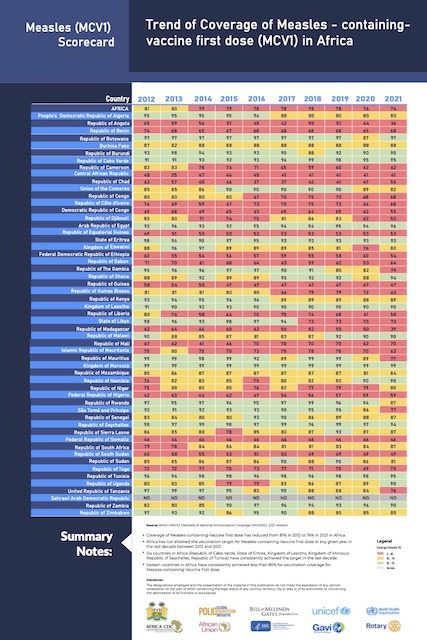 Trend of Coverage of Measles - containing - vaccine first dose (MCVI) in Africa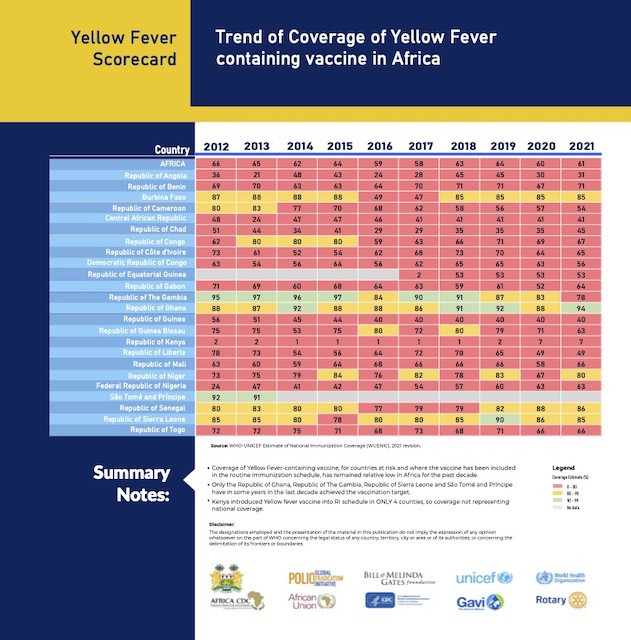 Trend of Coverage of Yellow Fever containing vaccine in Africa