COVID-19 vaccines are a crucial tool in ending the pandemic. The development and approval of safe and effective vaccines less than a year after the emergence of COVID-19 is a stunning achievement, and Africa is embarking on its largest ever vaccination drive.
Vaccines save millions of lives every year. Vaccines work by training and preparing the body's natural defences - the immune system - to recognize and fight off the viruses and bacteria they target. If the body is exposed to those disease-causing germs later, the body is immediately ready to destroy them, preventing illness.
With a fast-moving pandemic, no-one is safe until everyone is made safe by vaccination. As countries around the world procure vaccines, Africa must not be left behind.
African countries can access COVID-19 vaccines in three ways:
Through COVAX, the global facility led by WHO, Gavi, the Vaccine Alliance and the Coalition for Epidemic Preparedness Innovations (CEPI).
Through the African Union's African Vaccine Acquisition Task Team, and
Through bilateral deals with vaccine manufacturers.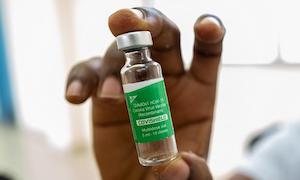 Read our questions and answers on COVID-19 vaccines
English | French | Portuguese
COVAX
42 African countries have so far joined the COVAX facility, which aims to ensure equitable access to safe and effective COVID-19 vaccines globally.
For Africa, the aim is to vaccinate at least 20% of the population by providing up to 600 million doses by the end of 2021. The first phase of 90 million doses will support African countries to immunize 3% of the African population that are most in need of protection, including health workers and other vulnerable groups, in the first half of 2021.
Preparing for vaccination campaigns
WHO works with African countries to support all aspects of immunization preparedness and rollout, regardless of how they procure vaccines. This includes capacity assessments, planning and coordination, advising on delivery strategies, strengthening regulatory mechanisms, training and supervision, data monitoring, vaccine safety and surveillance, and communication including raising public awareness and promoting demand for vaccination.
To make sure that vaccines are transported and stored adequately to remain effective, WHO, Gavi, UNICEF and other partners are working with countries to support their readiness to receive vaccines by mapping existing cold chain equipment and storage capacity as well as providing technical support for countries to be ready to receive and manage the vaccines.
The WHO-led Africa Vaccines Regulatory Forum (AVAREF) supports the regulation and ethical approval of vaccines, while overseeing vaccine clinical trials in Africa.
Latest news releases All →
Feature stories