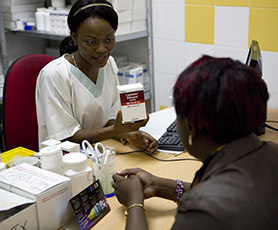 The mission of the Health Systems and Services Cluster is to support member states to build robust, resilient and responsive health systems and services that can sustain equitable delivery of integrated packages of essential services of good quality, that enable vital access for all individuals, communities and populations.
A strong focus is on supporting countries to attain universal health coverage, defined as when the whole population has access to quality health services without enduring undue financial hardship.
Divisions include Health Information and Knowledge Management; Health Policies, Strategies and Governance; Health Technologies and Innovations; and Service Delivery Systems.
Areas of work include blood safety, essential medicines, health financing, health systems and services, health workforce, laboratories and health technology, and research, publications and library services.