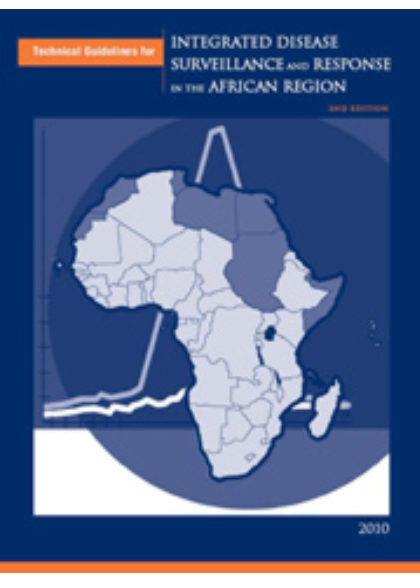 Technical Guidelines for Integrated Disease Surveillance and Response in the African Region
In 1998, WHO/AFRO and its Member States, along with their technical partners, adopted the Integrated Disease Surveillance (IDS) strategy for developing and implementing comprehensive public health surveillance and response systems in African countries. To highlight the essential link between surveillance and response, subsequent documents referred to Integrated Disease Surveillance and Response (or IDSR).
The first edition of the IDSR Technical Guidelines (2002) was widely adopted and adapted throughout the African region. Progress towards coordinated, integrated surveillance systems has been mixed, but almost every country in the region and their partners has invested human and material resources in strengthening capacities for public health systems in order to detect, confirm and respond to public health threats in time to prevent unnecessary illness, death, and disability. As a result, the second edition of the IDSR Technical Guidelines was developed in response to several factors relevant to the last decade.
These guidelines have been revised from the previous edition in order to incorporate priority emerging and re-emerging communicable and non-communicable disease threats. The revised guidelines also aim to address how to implement the IHR 2005 requirements and capacities for surveillance and response. These guidelines should be adapted to reflect national priorities, policies and public health structures.
The guidelines are intended for use as:
A general reference for surveillance activities across all levels
A set of definitions for thresholds that trigger some action for responding to specific diseases
A stand-alone reference for level-specific guidelines
A resource for developing training, supervision and evaluation of surveillance activities
A guide for improving early detection and preparedness for outbreak response.
The revised IDSR Technical Guidelines (2010) include:
Surveillance guidelines for the 43 diseases and conditions to guide collection of data on non-communicable diseases and events of public health concern.
Updated tools for preparedness and response such as recommended stock lists for outbreak response, laboratory supplies, and personal protective equipment.
Guidance for creating case definitions for community-based surveillance.
Surveillance system monitoring and evaluation indicators including performance indicators for each level of the health system.
The WHO Regional Office for Africa suggests the following communicable and non-communicable diseases and conditions or events as priorities for integrated disease surveillance in the African Region. The diseases are recommended because they are:
Required internationally under IHR (for example, smallpox, poliomyelitis due to wild-type poliovirus, human influenza caused by a new subtype, SARS);
Diseases with highly epidemic potential to cause serious public health impact due to their ability to spread rapidly locally and internationally (for example, cholera, plague, yellow fever, viral haemorrhagic fever,);
Principal causes of morbidity and mortality in the African Region (for example, malaria, pneumonia, diarrhoeal diseases, tuberculosis, HIV/AIDS, maternal deaths and injuries)
Non-communicable priorities in the region (high blood pressure, diabetes mellitus, mental health and malnutrition)
Effective control and prevention interventions are available for addressing the public health problems they pose (for example Onchocerciasis, Trypanosomiasis);
Intervention programs supported by WHO for prevention and control, eradication or elimination of the diseases exists. For example, the Expanded Program on Immunizations (EPI), the Integrated Management of Childhood Illness (IMCI).