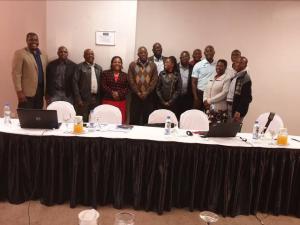 Meeting of the AFRO 11 project National Steering Committee to strengthen national capacity for innovative implementation of IVM for disease prevention and control
The World Health Organization (WHO) with funds from the Global Environmental Facility (GEF) is engaged in a five-year multi-country project on Integrated Vector Management (IVM), and this project is known as the AFRO II project. Zimbabwe is one of the seven southern African countries that are implementing the project. To facilitate the execution of the AFRO II project in all the project countries it was deemed necessary that a multi-sectoral National Steering Committees be established.
The main function of a National Steering Committee is to oversee the implementation of the project activities with specific attention to the planning, execution, monitoring and evaluation aspects. It is against this background that a meeting, coordinated by the Ministry of Health and Child Care and WHO, was held from 07- 08 May 2019 in Harare.
The specific objectives of the meeting were as follows:
To create a common understanding of project background, goal and objectives and indicators and targets

The formation and launching of the National Steering Committee.

To discuss and agree on the terms of reference for the National Steering Committee.

To review the protocol of the demo component of the project.

To discuss the monitoring framework for malaria vector control insecticides

To agree

on the next steps: what, how, who and when to

implement.
The main highlight of the meeting was the formation of a National Steering Committee. Professor Sungano Mharakurwa, the Dean of the Faculty of Health, Agriculture and Natural Sciences at Africa University, was elected the chairperson of the committee. The Ministry of Health and Child Care was nominated the secretariat, with WHO also given the task of core-secretariat.
The newly constituted National Steering straight away went into serious business and deliberated on the following issues:
Afro II Project background, goal, objectives, components and expected outputs.

Feedback from the 2nd Annual Regional Steering Committee Meeting.

Reviewing of the Afro II Project demonstration protocol.

Framework for monitoring insecticide use in malaria vector control.

Safe and effective use of insecticides in malaria vector control

Stockholm Convention Obligations.

Criteria for selection of malaria vector control interventions.

The use of DDT in malaria vector control.
The National Steering Committee also revised the 2019-2020 project action plan and assigned names of responsible persons and deadlines for the various activities. Scheduled meetings will be held on a quarterly basis, while ad hoc meetings will be convened whenever there are urgent matters to be discussed.