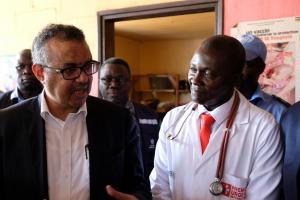 The Central African Republic prepares for Ebola response
12 June 2018 – Bangui "The Central African Republic has made a good start in preparing for a possible Ebola outbreak," said Dr Tedros Adhanom Ghebreyesus, Director-General of the World Health Organization (WHO), at the end of a short visit to the country. "But we must remain vigilant, and consolidate the work started."
Preparations off to a good start
During his visit, which took place a month after the announcement of the ninth Ebola epidemic in the Democratic Republic of Congo, the Director-General was able to take stock of the level of preparedness in the Central African Republic. He visited the Epidemic Treatment Centre which will manage Ebola cases if needed; surveillance activities at the Ouango Sao river port, one of the main ports for boats crossing from the Democratic Republic of Congo; and also the Institut Pasteur in Bangui which will manage laboratory testing and investigation in case of suspected Ebola cases.
Several activities are planned for the coming days: training of health workers who will manage Ebola patients in the event of an outbreak; installation of isolation tents; and the set-up of infection prevention measures such as hand-washing facilities in the areas designated as highest priority in the south-west of the country. Community mobilization to provide information about how to prevent Ebola will also be scaled-up.
The most urgent public health issues discussed
The visit to the Central African Republic, the first by a WHO Director-General for 23 years, also provided an opportunity for him to get a sense of the country's capacity to address public health emergencies. This was discussed during meetings with the President of the Central African Republic, Professeur Faustin-Archange Touadéra, the Minister of Health and Population, Dr Pierre Somse, humanitarian partners and civil society.
Life expectancy in the country is just 53 years; less than 50% of children are vaccinated against polio, diphtheria and tetanus; and 1 in 25 people in the 15-49 age group are HIV-positive. Malaria and diarrhoeal diseases are significant causes of childhood illness and the maternal mortality rate is the second highest in the world.
Half of the population needs humanitarian support
The security situation in the country is very concerning. It is estimated that 1 person in 4 people has been displaced and 1 in 2 needs humanitarian support. Violence against health personnel and humanitarian workers occurs regularly. Dr Tedros described the situation as a "neglected crisis" and underlined the importance the need for the international community to take the situation more seriously.
Questions relating to access to care, human resources for health, and the strengthening of the health system were also at the heart of discussions between the governmental authorities and the Director-General. WHO will strengthen its collaboration with the Ministry of Health to implement the Interim Health Plan developed by the Government.
"During this historic visit, we saw an unprecedented commitment by the Director-General of WHO. We agreed on concrete action points in areas where the health needs are the greatest," said the Minister of Health at the end of the visit.