WHO donates cholera supplies to the Ministry of Health to strengthen case management
Lilongwe - The World Health Organization (WHO) has donated additional cholera supplies for Malawi government to support in the ongoing cholera outbreak response that has affected all the 29 districts of the country. WHO Representative for Malawi Dr Neema Rusibamayila Kimambo masde the official handover of the cholera supplies to the Minister of Heath Honorable Khumbize Kandodo Chiponda MP in Lilongwe, at the Ministry of Health Headquarters. The supplies which are worthy over 175, 000 USD comprise oral rehydration salts, zinc and Sodium dichloroisocyanurate.. The supplies have been targeted to Malawi to improve case management of cholera both at community and cholera treatment centers. Malawi has a high cholera case fatality rate of 2.89 percentage (expected is <1%) which is translated from over 363 cholera deaths as of 13 December 2022. Sodium dichloroisocyanurate is a chemical compound that is used for sterilizing drinking water, and it will be distributed to communities that have limited access to safe water and high-transmission areas. The provision of safe drinking water is critical in cholera outbreak prevention and control.
Following the donation of oral rehydration and zinc, The Ministry of Health with support from WHO and partners are planning to establish Oral Cholera Rehydration point in all cholera affected districts. Oral Rehydration Points (ORP) are community level sites that provide rapid access to oral rehydration salts (ORS) solution in communities. ORPs will be staffed by community health workers (CHWs)/HSAs supported with community volunteers who will be trained on important aspects of cholera management and control. The community health workers will be providing oral treatment for patients with suspected cholera and dehydration and refer patients with some or severe dehydration to the cholera treatment facilities (after starting ORS if possible).
"Some cholera patients are not seeking care early which is leading to high cholera deaths. Providing access to ORS at a community level will improve the outcome of cholera cases and ultimately save lives. ORPs provide first-line, community-level rehydration, as a highly decentralized element of case management services." Said WHO Representative for Malawi Dr Neema Rusibamayila Kimambo.
On 5 December, the Malawi Government declared the cholera outbreak in Malawi as a 'Public Health Emergency' as the country continues to register cases. As of 13 December, the country had cumulative total of 12,556 confirmed cases since the onset of the outbreak in March. WHO and partners are supporting the Government of Malawi through the Ministry of Health in case management trainings, strengthening surveillance, distribution on essential supplies, strengthening water treatment systems, provision of oral cholera vaccine and raising awareness on good water, sanitation and hygiene practices.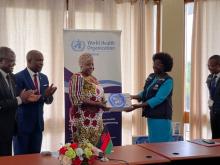 For Additional Information or to Request Interviews, Please contact:
Communications Officer
WHO Malawi
email: mukhunav [at] who.int
Tel: +265 999 375 094