Malawi launches oral cholera vaccination campaign to contain cholera
Lilongwe- Malawi today kicked off oral cholera vaccination reactive campaign targeting 2.9 million people aged one year and above. The reactive campaign is aimed at halting the ongoing transmission and control cholera outbreak that has affected all the 29 districts of the country. The campaign will run from 28 November to 2 December in 13 high burden districts.
The World Health Organization (WHO) through the International Coordinating Group (ICG) on Vaccine Provision facilitated procurement of 2.9 million vaccines for the Malawi Government, funded by the Global Alliance of Vaccines (GAVI).
WHO recommends the use of oral cholera vaccine during cholera outbreak to contain outbreaks and to limit the spread of the outbreak into new areas.
"This vaccination campaign has come at a critical time during Malawi's rainy season, when water is easily contaminated. But vaccines are just one piece of the puzzle to ensure the prevention of cholera: Collective efforts to treat the sick and improve water and sanitation systems are also essential." Said Dr Neema Rusibamayila Kimambo, WHO Representative for Malawi.
This is the second reactive campaign in Malawi with the first campaign conducted in June 2022 in the Southern Region that reached over one and half million people. This second campaign will prioritize 13 districts with high number of cholera cases namely Karonga, Rumphi, Mzimba North, Mzimba South, Likoma, Nkhatabay, Chitipa, Lilongwe, Salima, Nkhotakota, Kasungu, Nsanje, and Zomba. The targeted districts have been determined following in-depth analysis of historic and current epidemiological data and current risk factors.
The ongoing Cholera outbreak in Malawi which started in February 2022 has affected all the 29 districts of the country. As of 27 November 2022, the country has recorded 10306 cases and 299 cholera deaths.
Beyond vaccination, the World Health Organization (WHO), the United Nations Children's Fund (UNICEF) and partners are supporting the Government of Malawi through the Ministry of Health to provide clinical care at dedicated treatment centers established closer to communities, train health care workers, strengthen water treatment systems, distribute essential supplies, and raise awareness on hygiene practices and prevention methods.
Cholera is an acute diarrhoea infection caused by eating or drinking food or water that is contaminated with the bacterium Vibrio cholerae. It is a serious disease that can cause severe acute watery diarrhoea with severe dehydration. Cholera affects both children and adults and can kill within hours if untreated. Recommended cholera disease prevention and control measures include the provision of safe drinking water and proper sanitation to at-risk populations and timely and appropriate healthcare for those with clinical disease.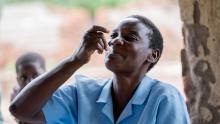 For Additional Information or to Request Interviews, Please contact:
Communications Officer
WHO Malawi
email: mukhunav [at] who.int
Tel: +265 999 375 094