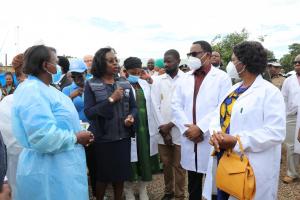 Malawi launches a national "End Cholera" campaign
Lilongwe – Today the Government of Malawi launched the national Tithetse kolera (End Cholera) campaign to curb the outbreak affecting the country. The campaign was launched by H.E President Dr Lazarus McCarthy Chakwera in Mgona, one of the capital's cholera hotspots. Prior to the launch, the president visited a cholera treatment centre in Lilongwe area 25, which World Health Organization (WHO) helped refurbish and equip. The centre can now host up to 80 patients, compared with 20 patients previously.
Malawi is facing its worst cholera outbreak in two decades, with 42 422 cases and 1384 deaths as of 12 February 2023.
"Our purpose today is to work together to stop the spread of cholera. We need to stop this scourge because it is killing our people", said H.E President Dr Lazarus McCarthy Chakwera.
The campaign aims to interrupt cholera transmission in all districts by the end of February 2023 and to reduce the cholera fatality rate from 3.2% to below 1%, which is considered by WHO as an indicator of a controlled cholera outbreak. To achieve this goal, the campaign will focus on three broad activities: increasing access to appropriate cholera prevention and treatment health care services; increasing access to safe water, sanitation and improved food hygiene; and strengthening risk communication, community involvement, and social mobilization in cholera prevention and treatment.
"WHO appreciates government's efforts to contain the outbreak and we will continue to work with partners to implement the strategies that have been outlined in the End Cholera Campaign," said Dr Neema Rusibamayila Kimambo, WHO Representative in Malawi. "WHO calls for a multi-sectoral response approach to strengthen overall coordination for effective technical support, resource mobilization, and partnerships for cholera prevention and control."
WHO has deployed 40 international experts to provide emergency support to national health authorities in strengthening disease surveillance, prevention and treatment measures, community engagement and multi-sectoral coordination to improve sanitation and provide safe water.
The Organization is also supporting health authorities to mobilize and deploy 450 health workers for case management. In five high burden districts WHO has helped to establish 45 oral rehydration points, which facilitate early treatment of cholera cases at the community level. In addition, community health workers have been trained to engage households on pot-to-pot chlorination, active case funding and health education on hygiene and sanitation.
Cholera is an acute intestinal infection caused when someone consumes food or water contaminated with the bacterium Vibrio Cholerae. If left untreated, cholera can kill within hours. People living in places with poor sanitation and unclean drinking water are most at risk of getting cholera.
Following floods in the southern region of Malawi, the Ministry of Health confirmed a cholera outbreak on 3 March 2022. Initially limited to the flood affected areas of the southern region, the outbreak then spread to the north of the country in August 2022 and by the end of October 2022 all 29 districts were affected. As a result, the government declared a national public health emergency on 5 December 2022. Two oral cholera vaccination campaigns, from May to June 2022 and November 2022 to January 2023, have allowed for the administration of nearly 5 million doses in 21 districts.
Over the last week, a declining trend in new cases has been reported in 23 districts but new cases increased in six districts. Lilongwe, Balaka, Blantyre, Mangochi and Machinga are the five most high-burden cholera districts. To sustain a downward trend in new cases, there is a need to scale up public health response interventions in the critical areas of case management, risk communication and community engagement, community-based surveillance and access to clean water sanitation and hygiene.