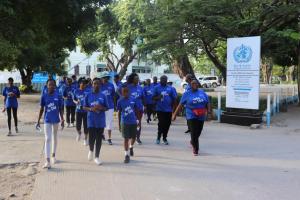 WHO Tanzania Walks the Talk
18 June 2022, Dar es Salaam: Today, the WHO Tanzania Country Office team organized its first Walk the Talk event to encourage people of all ages and abilities to move for better health. This in-person and colorful event led by the Acting WHO Country Representative, Dr. Zabulon Yoti and the Country Office Staff Association, invited WHO staff and family members to run or walk over a 5km route from the Country Office premises and along the new Tanzanite Bridge. As part of the event, warm up/stretch and blood pressure screening activities were provided.
Speaking during the colorful event, Dr. Yoti said, "Today, we renew our commitment to take steps needed to ensure that the people in Tanzania are enjoying better health and well-being. We commit to Promote health, Keep the world safe and Serve the vulnerable. We can only do this if we are healthy – physically and mentally. This Walk also forms an important part of team building because a team that plays together, delivers together".
The Walk the Talk event is organized to support global and regional efforts to promote the #HealthForAll challenge – a movement launched in 2019 to promote a healthy lifestyle, for a healthier humanity. It is an initiative offered to the larger global community to promote health and well-being for people all over the world.
"Today, we call on everyone - people of all ages and abilities, to be physically active because every type of movement counts. Being active is good for our hearts, bodies and minds. We plan to hold such events regularly together with our health partners and the public to celebrate health and Walk the Talk" concluded Dr. Yoti.