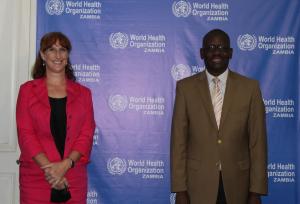 Canada Funded ACT-A Health Systems Connector implementation supports WHO and MoH COVID-19 Response and Continuity of Health Services in Zambia
Lusaka - On 14 March 2022, the High Commissioner of Canada to the United Republic of Tanzania, the Republic of Zambia, the Seychelles, and Ambassador of Canada to the Union of Comoros,  HE Pamela O'Donnell visited the World Health Organization (WHO) Zambia to learn about WHO's work and discuss steps and achievements made in the implementation of the Access to COVID-19 Tools Accelerator (ACT-A) program funded by the Department of Foreign Affairs and International Trade of Canada.
In April 2021, WHO and Canada signed a global grant for a contribution of 100m Canadian dollars (about US$ 78.5m) to the WHO ACT-A Health Systems Connector Implementation of which WHO Zambia received an allocation of US$ 674,385. Since joining the ACT-Accelerator on May 4, 2020, Canada has contributed more than 1.3 billion Canadian dollars (about US$ 1.1bn) to the ACT-A, an unprecedented initiative that brings together governments, scientists, businesses, civil society, philanthropists and global health organizations to address challenges related to COVID-19 and protect everyone from this new virus and to support COVID-19 response and the continuity of essential health services during the pandemic.
The kind support from the Government of Canada comes at a time when WHO Zambia is aiming to build a resilient national and local health system, one that has strong emergency preparedness capacity, able to respond to different types of health hazards and ensure continuity in the delivery of quality and equitable health services during such times.
The implementation of the ACT-A has so far seen WHO Zambia conduct the first and second round frontline health service capacity and readiness assessment of 253 health facilities and 50 health posts in COVID-19 case management capacity, continuity of essential health services, community needs, perceptions, COVID-19 prevention and care, and health service resilience.
Further, the grant has enabled WHO and Global Fund support the Ministry of Health (MoH) to conduct a harmonized health facility assessment in 3229 health facilities in Urban, Rural, Public, Private and NGO hospitals, health centers and health posts across the country. With the data collected, WHO Zambia in collaboration with cooperating partners is working to analyze, interpret and develop policy briefs that will guide the National Health Strategic Plan (NHSP) 2022 -2026 implementation and in building a better resilient health system in the post COVID-19 era. 
"The Harmonized Health Facility Assessment Census is the first of its kind in the Africa region and we are very grateful to Canada for the support making this happen", said Dr Nathan Bakyaita. WHO Representative to Zambia.
"Canada is pleased to support Zambia's COVID-19 response while also strengthening health service delivery.  Investments to improve the resiliency of health systems will help ensure better responses to future public health emergencies and save lives." said H.E. Pamela O'Donnell.  
The ACT-A main objective is to support the development and equitable distribution of diagnostics, treatments, vaccines and protective personal equipment to reduce mortality and severe disease, restoring full societal and economic activity globally. It focuses on four priority pillars with a focus on two major thrusts including addressing country specific health systems bottlenecks to enhance readiness for delivery of new tools and rapidly scaling up essential health system commodities and tools to ensure the continuity of other health services.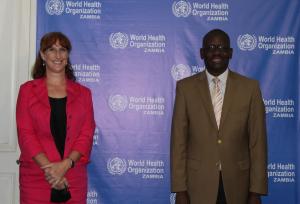 Click image to enlarge
For Additional Information or to Request Interviews, Please contact:
Communications Officer
World Health Organization Country Office, Zambia
Email: kapemak [at] who.intdata-auth="NotApplicable" data-linkindex="0" id="LPlnk242245" rel="noopener noreferrer" target="_blank"