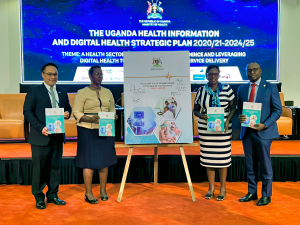 Uganda's Ministry of Health Launches the Digital Health Strategic Plan
The Ministry of Health, supported by the World Health Organization (WHO) and UNICEF, USAID, WFP, UNCDF, CDC, PMI and The Global Fund, has launched the Uganda Health Information and Digital Strategic Plan 2020/2021 to 2024-2025 aimed at strengthening the health information system in the country.
The plan that addresses data quality and late reporting, in health facilities across the country institutionalizes the use of patient-level digital systems at the point of care and provides a blueprint for digital health implementation, research, and innovation to improve the efficiency and effectiveness of health interventions.
Addressing partners and the media at the launch, Dr. Diana Atwiine, the Permanent Secretary of the Ministry of Health noted the perfect alignment of the plan with the objectives of the Ministry of Health Strategic Plan and the National Development Plan III.
"Digitalization is the oxygen of the health system. It is cost-effective and in the long run and will save the sector a lot of money currently spent on printing tools" she said adding that "with a click of a button, a supervisor at any level will be able to know the time a health worker arrived on duty and what they do every day". This technology, she said, will also facilitate effective planning for the health sector and readiness for emergencies including disease pandemics.
Echoing the same sentiments, Dr. Shrestha Suraj Man, from the WHO Country Office emphasized the significance of adopting a digital health strategic plan for strengthening health service delivery and enabling of early detection and effective response to public health emergencies.
"The strategic plan comes at the right time of improving health systems practices in the country. This is a crucial step towards digitizing health care in Uganda and improving the quality and accessibility of health care services," Dr. Suraj noted.
Dr. Sarah Byakika, the Commissioner for Planning at the Ministry of Health, focused on the existence of governance structures for digital health implementation calling for their strengthening at the national, subnational, and community levels. She noted that while structures exist at the national level, they need to be strengthened or even established at the lower levels of the health services delivery system.
The success of the Health Information and Digital Strategic Plan relies on a collaborative effort from multiple stakeholders across various sectors. The strategy does not only target the Ministry of Health but also other relevant ministries, parliament, regional referral hospitals, local governments, partners, the private sector, academia, and the general population making it truly multi-sectoral.