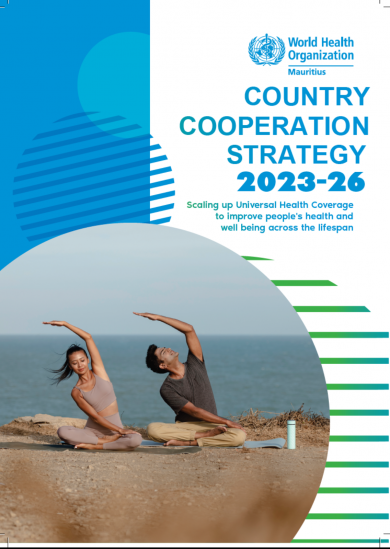 WHO-Mauritius Country Cooperation Strategy 2023 - 2026
The strategy has been developed through extensive societal dialogue initiated since 2018.
The CCS identifies four strategic priorities that will help attain of this overarching goal:
›
Building resilient health systems to advance UHC
›
Strengthening emergency preparedness and response
›
Promoting health and healthy environments for all Mauritians through multisectoral engagement
›
Supporting use of data and innovation for integrated, people-centred care
To achieve the above-mentioned strategic priorities, WHO will pursue an integrated approach with dialogues
and complementarities across programmes, disciplines and sectors in providing leadership in health and
promoting good health and the well-being of all people in Mauritius.
WHO will harness global knowledge to help deliver evidence-informed, context-specific, and innovative
solutions that will benefit all Mauritians. WHO will continue to work closely with development partners,
including other United Nations agencies, and other multilateral and bilateral partners. The joint work will
be guided by the Sustainable Development Goals, Mauritius Vision 2030, the Government Programme
2020-2024, the HSSP 2020-2024, the United Nations Strategic Partnership Framework 2019–2023,
WHO's Thirteenth General Programme of Work (GPW 13) and the United Nations Sustainable Development
Cooperation Framework (UNSDCF) 2024-2028.
---