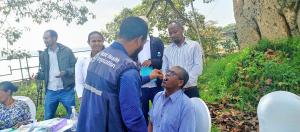 Close to 1.9 million receive the Cholera vaccine despite challenging environment in Amhara region
Bahir Dar – The Amhara region is the 2nd most populated region in Ethiopia. The region currently faces multiple emergencies including drought, Measles, Malaria, and a Cholera outbreak according to the Amhara Public Health Institute (APHI). Amhara is also affected by armed conflicts causing a spike in the number of Internally Displaced People (IDPs). The region counts over 800,000 IDPs in the region, of which 12% are living in 40 collective sites.
The World Health Organization (WHO) is assisting the Regional Health Bureau (RHB) and APHI by providing Financial and Technical support where humanitarian or other public health responses are required. WHO conducted successful interventions which include providing vaccination and essential kits for cholera and other diseases. The Oral Cholera Vaccination (OCV) campaign reached more than 1.9 million individuals in the region despite a challenging environment.
An Oral Cholera Vaccination despite challenging environment
On 15th September 2023, the region launched a 5-day Oral Cholera Vaccination (OCV) campaign in 9 of its most affected hotspot Districts. These Districts were prioritized due to limited doses of the vaccine, the presence of holy water sites, IDPs and agriculture development corridors with migrant workers in Metema and Quara, and the fact that they have had previous Cholera outbreaks qualifying them as high-risk areas. 
The OCV campaign targeted adults, youth, and children above 1 year of age in all the selected districts regardless of their gender and religion. 895 vaccination teams were deployed for the OCV campaign with an estimated daily target of 400 people vaccinated in fixed post approach. By the end of the campaign, which included three rounds of mop-up, 98.76% of the targeted population had been vaccinated. This represents a total of 1,867,926 lives protected from the deadly disease thanks to vaccines.
The District of Mojana Wedera reached 98.5% although vaccination started later due to security reasons as the government had no control over the areas at the time Districts were initiating their OCV campaign. This was made possible thanks to negotiations between the health Teams and the Amhara popular force/FANO, after which the district finally initiated its OCV campaign.
WHO supported the OCV campaign from the delivery and transport of the vaccines from Addis to the region. WHO also provided capacity building via Training Of Trainers and field level support of the implementation in Districts. 
 
Do it All!
WHO recommends the use of cholera vaccines in combination with surveillance, water, sanitation and hygiene, social mobilization, and treatment among those living in high-risk areas. The vaccine alone has an efficacy of 60%-67% protection from a first dose which then gradually decreases. Vaccination was conducted alongside different health interventions to control and prevent cholera outbreaks to further spread beyond the 31 Districts already affected. 
To control the outbreak, WHO conducted several interventions including surveillance for Cholera cases and Adverse Events Following Immunization (AEFIs), health education on Cholera prevention including homemade Oral Rehydration Solution (ORS) preparation and utilization then surveillance and investigation for rumors and house-to-house disinfection. Cholera can eventually be eliminated if access to clean water and sanitation facilities, as well as good hygiene practices, are ensured and sustained.
Culture, religion, and health measures 


The Amhara region leads in cultural and religious sites in Ethiopia, with its churches and holy water sites attracting thousands of pilgrims seeking spiritual cleansing and physical healing. The holy water is said to cure everything from disease, and medical condition to curse.  The high population movement and precarious lifestyle adds to the multiple risk factors contributing to the ongoing outbreak. These include unsafe drinking water sources, poor food hygiene and poor sanitation. 

Overcrowding and sanitation practices in the Holly water sites have contributed to outbreaks of cholera outbreaks over the last two decades. To protect the pilgrims, WHO has reached out to religious leaders from the Ethiopian Orthodox Church, Monasteries, the Amhara Public Health Institute (APHI) and other partners to ensure that water safety and latrine access is improved around holy water sites. Engagement and mobilization interventions have been implemented so far and most of holly water sites religious leaders and communities recognized the burden of Cholera on their communities.