South Africa's alcohol consumption rate is very high, with the country ranked as one of the top 10 most drinking nations in the world. Most education and awareness campaigns have been initiated to curb liquor abuse but have not had the kind of impact required. This, according to the Department of Trade and Industry (DTI), highlighted a need to debate and exchange knowledge and experiences on effective and impactful education and awareness campaigns to address the problem of liquor abuse in South Africa. Accordingly, the DTI hosted a forum of experts and community activists, discussed and proposed new strategies that can have meaningful impact and be considered for implementation at the national level taking into consideration national circumstances.
The WHO Country Office presented on the "Effective interventions to reduce harmful use of alcohol".  The presentation was informed by the ten key areas of policy options and interventions at the national level from the organization's Global Strategy to reduce the harmful use of alcohol. However, emphasis was placed on community action to:
Supporting rapid assessments in order to identify gaps and priority areas for interventions at the community level;
Facilitating increased recognition of alcohol-related harm at the local level and promoting appropriate effective and cost-effective responses to the local determinants of harmful use of alcohol and related problems; and
Strengthening capacity of local authorities to encourage and coordinate concerted community action by supporting and promoting the development of municipal policies to reduce harmful use of alcohol, as well as their capacity to enhance partnerships and networks of community institutions and nongovernmental organizations.
Various speakers participated and shared knowledge and experiences on implementation of education and awareness campaigns from various perspectives. The presented evidence suggested that proven approaches include improved education, good enforcement and strong self-regulation can have significant impact on alcohol harm reduction. The speakers included Mr Eugene Mahlehla: WHO Country Office Health Promotion Officer; Ms Leana Olivier: CEO, Foundation for Alcohol Related Research; Mr Tshepo Kau: Director, SANCA, Soweto Office; Mr Bongani Ndlovu: Adult Media Manager, Soul City Institute; and Ms Mafedi Mphahlele: Director, Knowledge Management, DTI.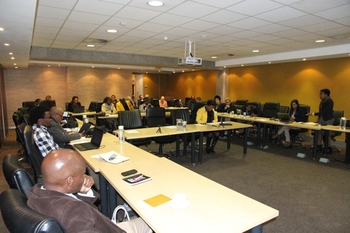 The forum was attended by over 30 stakeholders including researches around issues of alcohol and strategies for combating alcohol abuse in different sectors, government departments, NGOs, research institutions and media.
The DTI as a policy maker in the liquor industry is challenged to formulate effective strategies to address the problem of alcohol abuse and come up with workable solutions that are needed to provide policy options and interventions that should be considered for implementation in the country.
WHO will continue to provide support to DTI in gathering intelligence and evidence to inform the development of the department's education and awareness strategy to curb liquor abuse