Gaborone, Botswana - 22 August 2019: This morning, the new World Health Organisation (WHO) Representative to Botswana, Dr Josephine Namboze, presented her credentials to the Minister of International Affairs and Cooperation, Honourable Dr Unity Dow.
The Honorable Minister welcomed the new WHO Representative (WR) and expressed her joy to meet Dr Namboze. She thanked WHO for assigning Dr Namboze to Botswana, at a time when the country is experiencing significant health challenges, such as the threat of disease outbreaks and emergencies, diseases which know no borders, and the rising concern of non-communicable diseases. Dr Dow said that this is the time the country needs a stronger WHO more than ever and appreciated Dr Namboze's experience which will help the country attain it's health aspirations.
Earlier, Dr Namboze thanked the Honorable Minister for her warm welcome and for the trust in WHO as a leader in the health Agenda. She brings to Botswana a wealth of experience of 28 years working as a public health expert covering an array of public Health issues, 24 of which have been with the World Health Organization. Prior to re-assignment to Botswana, Dr Namboze was the WHO Representative to Eritrea, and has worked with the WHO Intercountry Support Team office in Harare, for 13 years, supporting Eastern and Southern African Countries on Malaria Control. She felt honored to being assigned to work in an upper- middle income country and pledged to draw on her experiences and expertise to significantly contribute to Botswana's health and development landscape. The Dr Namboze was pleased to be part of the team that will be leading in addressing health challenges, using Primary Health Care approach and other strategies to achieve the health related SDG targets.
She also thanked the Honourable Minister for the support accorded to Dr Matshidso Moeti, who has been confirmed to continue serving as the WHO Regional Director for Africa.
Dr Dow pledged her support to the WR to ensure that she achieves the vision of making significant contribution to the health and wellbeing of Batswana. The Honourable Minister and Dr Namboze agreed on open communication for better and expedient facilitation on health issues.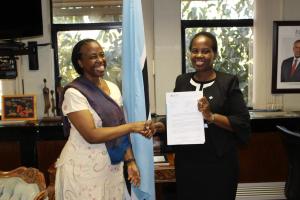 The Honourable Minister of International Affairs and Cooperation, Dr Unity Dow (right), receiving the credentials of the WHO Representative to Botswana, Dr Josephine Namboze (left)
Click image to enlarge
For Additional Information or to Request Interviews, Please contact:
Email: gaboronem [at] who.int
Tel: +26773228286