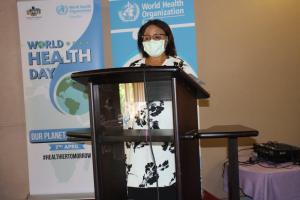 "Our Planet, Our Health" towards a healthier tomorrow
The World Health Organization (WHO) in Eswatini in collaboration with the Ministry of Health (MOH) brought together more than 100 key stakeholders to discuss issues around health and the environment under the theme, "Our Planet, Our Health". The stakeholders included government sectors, regulatory authorities, international organizations, non-governmental organizations, municipalities, academia, and members of the media. This marked the commemoration of World Health Day 2022.
The climate change crisis, pollution, healthcare, and general waste management, as well as clean cities, were some of the issues discussed. The Director for Policy Planning from Eswatini Environmental Authority (EEA), Mr. Gcina Dladla highlighted that there is an emerging threat to health posed by microplastic which may be available even in the water that people drink every day. He also mentioned that most of the rivers in Eswatini have feacal contaminants. Further, he said air pollution caused by health incinerators may also cause a danger to the health of the people, emphasising the need for innovative ways of healthcare waste management. Meanwhile, cities complained that they were running out of space to keep waste and urged that people need to minimize the waste that they generate and recycle where possible.
Since December 2020, Eswatini is running a campaign called "Phatsa Sakho Nawe" – Towards a plastic bag free Eswatini. The "Phatsa Sakho Nawe" campaign seeks to advocate three key aspects over the use of single plastics in Eswatini: to control the plastic waste problem through reduction of the free distribution of single-use plastic bags, monitor behaviour change of consumers, and encourage identified local manufacturers, rural women, to supply the locally made multiple use shopping bags. A complete ban of single-use plastic bags is the most effective way of dealing with plastic bag pollution in the country.
Mr. Bongani Sigudla from the Environmental Health Department of the Ministry of Health observed that COVID-19 increased the volumes and pressure on healthcare waste management systems, coupled with inadequate resources to properly manage such waste. He mentioned that the country is also faced with shortage of containment and temporary storage facilities as well as inadequate technology and underperforming incinerators resulting in poor treatment and pollution. The country is also faced with stockpiles of pharmaceutical and chemical waste, indiscriminate disposal of face masks and diapers as well as dysfunctional wastewater treatment systems.
"There is need for the country to improve the regulatory framework and its enforcement, strategic planning for health care waste management, continual training and awareness as well as coming up with waste minimization strategies" said Mr Sigudla.
Making her remarks during the commemoration, Ms. Amina Mohammed, the acting UN Resident Coordinator for Eswatini highlighted that the United Nations in Eswatini, supports the country to conduct vulnerability, situation and needs assessments, and to create Health National Adaptation Plans (H-NAPs) under the Libreville Declaration on Health and Environment in Africa.
"We also support the country to submit National Adaptation Plan (NAPs), comprising essential public health interventions, to the United Nations Framework Convention on Climate Change" she added.
She thus emphasized that the Government, civil society, nongovernment organizations and communities need to work together, empowering one another to ensure the continued delivery of essential health services during future extreme events such as COVID, while containing the growing incidence of environment- and lifestyle-related diseases.
The Minister of Health , Senator Lizzie Nkosi noted that the country is in the process of strengthening treatment of diseases such as cancer which involves radiation. She said such treatment may come with a lot of waste, hence there is need to think carefully of where that waste will be disposed.
"When we look at all these diseases that are exacerbated by climate change you realise that our job as a nation is to try and get back to where we can reduce the emittance that we have into the air, water and the environment," said the minister.
She concluded by saying, "We cannot afford to lose sight of the fundamental truth that the climate crisis, the single biggest threat facing humanity today, is also very much a health crisis".