Lusaka – 8 September 2017 – The WHO Country Office yesterday made a donation of vehicles, boats and computers valued at six million Zambia Kwacha to the Ministry of health as part of its continued support for strengthening national capacities to detect, report and respond to public health emergencies. The acting WHO Representative, Dr. Custodia Mandlhate handed over to the Health Minister, Honourable Chitalu Chilufya thirteen (13) 4x4 Land cruisers (hard top), 2 Land cruiser Prado, two banana boats and 15 Dell Laptops which will be utilized in the health emergencies program in the country's ten (10) provinces and ports of entry. This donation has been made possible through the WHO Emergency Preparedness, Integrated Disease Surveillance and Outbreak response project which is funded by the United Kingdom Department for International Development (DFID) for the period September 2016 to August 2021. Dr. Mandlhate also handed over to the minister a total of 5 Land cruisers (hard top), 10 Dell desk top computers, 10 Samsung Galaxy tablets and I scanjet through the WHO Influenza Preparedness (PIP) Framework. The Influenza programme is operating in 9 sentinel sites in Lusaka, Monze, Nakonde, Ndola and Samfya districts. The 5 vehicles donated will go to the Virology laboratory at the University Teaching Hospital in Lusaka and the influenza preparedness sentinel sites in Monze, Nakonde and Samfya.
When handing over the donated items, Dr. Custodia Mandlhate paid tribute and appreciated the fundamental role the Department for International Development (DFID) was playing in supporting the health sector in Zambia, particularly that a greater part of the items donated were purchased through the DFID supported emergencies project. Dr. Mandlhate said that the donated items were intended to strengthen surveillance, emergency preparedness and response in all the 10 provinces of the country, to improve the functionality of port health offices at major border crossings as well as to improve the surveillance of Pandemic Influenza and laboratory capacities. She emphasised the fact that strengthening the capacities for detecting, reporting and responding to outbreaks was in line with the International Health Regulations (IHR) 2005 and called for accelerated implementation of the IHR activities. She reiterated WHO's continued support to the Ministry for implementation of the National Health Strategic Plan working while working in collaboration with the UN in Zambia and other partners.
At the same function, Dr. Mandlhate presented the WHO Country Cooperation Strategy 2017-2021 (CCS) document to the Minister of Health. She said that the third generation CCS was the key instrument that would guide the WHO Country Office support to Zambia and that it had been aligned to the National Health Sector Strategic Plan for 2017-2021 and other national health policies, strategies and plans, WHO's Global Programme of Work and the Sustainable Development Goals agenda for 2030.
The Health Advisor for DFID in Zambia, Uzoamaka Gilpin said that DFID welcomed the alignment of the timeframe of the WHO CCS to that of the National Health Strategic Plan including the a similar approach and focus on Primary Health Care. She said that it was important that the impact of WHO's technical leadership was visible at country level particularly that it had a critical role in supporting government to deliver high quality evidence based service delivery with increased efficiency. This she said was in line with WHO's reform which seeks to make the work of the organization more responsive to country needs. She said that DFID was therefore supportive of WHO's transformation agenda at highest levels and that at country level DFID was contributing to the National Health Strategic Plan as part of its health systems strengthening. She called upon the Ministry of Health to establish a technical working group on surveillance, preparedness and response in order to improve coordination and leveraging of available resources for implementation of the national emergency preparedness and response strategy using a multi-sectoral approach.
The Minister of Health, Dr. Chitalu Chilufya thanked DFID and WHO for the donation and said that it was a very significant investment to the health sector which would strengthen disease surveillance and port health. The Minister said that Zambia was part of the global village and faced risks of disease outbreaks and other public health emergencies and therefore the focus of government was on Integrated Disease Surveillance, epidemic preparedness and response. He said that the National Public Health Institute in Zambia was hosting the collaborating centre for the African Centres for Disease Control (CDC) for the SADC Region and a responsibility which called for putting in place very robust health systems to detect, report and respond to emergency outbreaks not only in Zambia but in the region as well. "We know that to do this and as part of health systems strengthening, we need transport, we need human resources, we need tools" He said. He also commended WHO for aligning the Country Cooperation Strategy to the National Health Strategic Plan as a way of synchronising its support to national priorities and those of WHO.
Present at the ceremony were representatives from the UN in Zambia, Cooperating Partners, Provincial Health Directors, Directors from Ministry of Health headquarters, officials from the Ministry of Health and the National Public Health Institute, representatives from Statutory bodies and boards, WHO Country Office staff and journalists from different media institutions.
Disease outbreaks can occur anywhere, anytime, with consequences that can shatter communities. Emergencies of all kinds – conflict, disasters – can cause lasting damage to people's health. Zambia has been facing disease outbreaks in different parts of the country with devastating effects on individuals, families and communities. Diseases such as cholera, typhoid, dysentery, chicken pox, anthrax are some of the challenges the health system faces while other humanitarian emergencies such as floods also pose health risks to affected communities.
WHO's new Health Emergencies Programme aims to help countries prepare for, prevent, respond to and recover from emergencies quickly, in a more predictable, dependable and accountable way, whether these are caused by disease outbreaks, disasters or conflicts.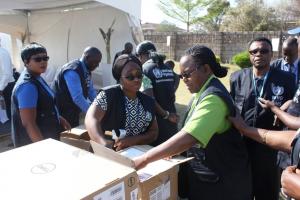 Click image to enlarge
For Additional Information or to Request Interviews, Please contact:
Health Information and Promotion Officer
Tel: 255322 /255336, 255398, Cell: 097873976
Email: mweemban [at] who.int
Disease Prevention and Control Officer
E-Mail: songolop [at] who.int
Tel No: 00-260-211- 255 398 / 255 336 / 255 322
Fax: 00-260-211-252863